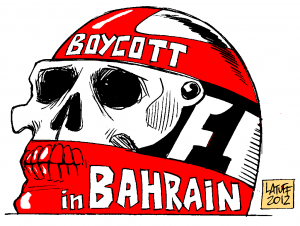 In the introduction of my book, I confess embarrassment at the amount of sport stories I produced. Sport fascinates me. It arouses passions that let some sort of larger human narrative be told. Sport anthropomorphizes cultures; a mass of individuals expresses itself as a single person. And the more culturally complex the league is, the more interesting and insightful those anthropromorphized narratives become.
Thus, I most closely follow international soccer and Formula 1 racing. Where the former is a century-plus old, well-established entity in terms of the hierarchy of impact players (nations), Formula 1 has enjoyed a radical reshaping over the past decade. Originally a European deal, F1 is now truly global, but, unlike FIFA, exclusive. There's a club – a crazy, heterogeneous club – of nations that host F1 races in 2012. These countries now host F1 races:
China
Turkey
India (Frymaster less than several threes back-marker Force India)
Malasia (actually, one of the earlier Asian races)
Singapore
Bahrain
Abu Dhabi
Right? 1/3 of the schedule is in Asia. (In 2012, for the first time since 2007, when our disastrous 2005 race on the infield course at Indy finally got us kicked out of the club, the US will host a race at our new track outside Austin, TX. My detailed review of that track is, you know, in that stupid book.)
Bahrain and US Military Power
One of the countries listed above is undergoing a people's revolution. And I'm sad to report it is not Austin, TX. It's Bahrain, home to the US Navy's Fifth Fleet, sent their to keep a close eye on our oil, er, national interests. Oil, USA, racing cars, coincidence…? Nah.
Yeah, so Bahrain's people aren't so keen on tyranny. But I guess the government is. And you and I are paying for it. For over a year, the Bahraini people have been protesting their government, and that government has been fighting back.
This compendium of stories that relate to the F1 race makes for interesting reading. Last year's race was postponed – swapped with India's inaugural – so the government could, you know, get people settled down. The race ran in the fall, not the spring. What are the odds that the stun grenade that smashed that guy's face in the top story from the first protests was Made in the USA?
This year, well, we'll have to see what happens. F1 and the auto manufacturers that drive it are, ostensibly, a progressive force in global sport…? F1 is the birthplace of technologies that have massively improved the civilian automotive fleet's fuel efficiency and safety. Refueling in a race is a thing of the past. Eventually, it will be 100% biofuels, then electric, then on-site produced renewables.
And Mercedes – a "works" team and league-wide engine supplier – has rules about who and what they can be supporting. Tyranny ain't on the list. If Mercedes and Mercedes-powered teams had to drop out of a race, well, that race wouldn't mean that much. That nation would probably get kicked out of the club.  (See the devastation that Germany's democratic socialism has wrought?)
I admit it; I watch sport because it lets the media tell me things about politics and culture that media actually doesn't want to tell me. So, how about those Bruins?!?