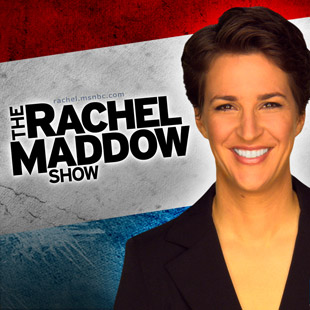 Local liberals share Rachel Maddow's infatuation.
The extremely popular and progressive MSNBC host, told the Bravo network this week that she's kinda got the hots for Rhode Island's junior senator and the undisputed leader of the unofficial lefty caucus here in the Ocean State.
At the 5:00 minute mark, a caller asks Maddow "what politician's creativity and courage gives you hope…?" She takes it one step further.
"I am going to tell you my secret politician crush which I've never talked about publicly before, Sheldon Whitehouse," she said. "There are actually a few senators who I think are pretty impressive guys. Sheldon Whitehouse because nobody knows who he is and he is always sort of quietly plotting along doing the right thing, being smart, thinking big thoughts while everyone else is thinking partisan thoughts. I have a little crush on him. He won't come on my show. This won't help."
Whitehouse responded via Twitter yesterday.
.@maddow, I'm honored to be your "political crush." http://t.co/FuGdoEimBK. I admire your work & am happy to be on your show any time.

— Sheldon Whitehouse (@SenWhitehouse) October 11, 2013
It's high time Rachel Maddow got something right about Rhode Island. Previously, she's misled her viewers into thinking we have a left-leaning legislature by assuming the Democratically-controlled General Assembly would support a gun control bill. As Sam Bell, chair of the Rhode Island Progressive Democrats, pointed out in the this post, MSNBC seems not to understand that many a local Dem falls far to the right of the object of Maddow's affection. And despite her assumption, the bill died in committee. The Progressive Dems have been a leader in calling attention to this issue and filed a campaign finance complaint against the NRA, as reported by the Providence Journal. Maddow, on the other hand, is telling the rest of America that Rhode Island Democrats are winning the war against gun violence.
No wonder she thinks Sheldon is flying under the radar. Whitehouse been a leading voice in Congress on campaign finance and climate change – next to war, these are the two biggest dilemmas facing the nation in the 21st century. He's even been mention as a possible Supreme Court nominee. Sheldon's about as unknown as our local legislators are anti-NRA!
When Sheldon appears on her show – and here's hoping this happens real soon – he should bring a map and see if Maddow can find us on it.
Rachel Maddow: my 'political crush' is Sheldon

,