Last week here on RI Future, I shared a short podcast about Racial Profiling in RI from the perspective of youth and community organizers working with Providence Youth Student Movement.  Here is an extended series of excerpts from my conversation on Sonic Watermelons with Sangress Xiong and Yonara Alvarado, and Franny Choi.
Xiong, Alvarado, and Choi are among community members, law enforcement officials and members of the legislature who will gather today at the State House for a meeting of the House Committee on Judiciary; the Comprehensive Racial Profiling Prevention Act of 2012  (H-7256) is one of the bills to be discussed.
All of tonight's agenda items deal with "Motor and Other Vehicles," and most are about motorists driving under the influence.  A couple other bills that might be of interest to RI Future readers include H-7222, which "would authorize a bail commissioner to order that a person's license be suspended immediately upon the report of a law enforcement officer that the person has refused a chemical test for driving while under the influence of alcohol" and H-7203 which, if passed, would "bar checkpoints as a means to detect motorists under the influence."
For more information about today's hearing, click here.  To read more about my interview with Xiong, Alvarado, and Choi, click here.
***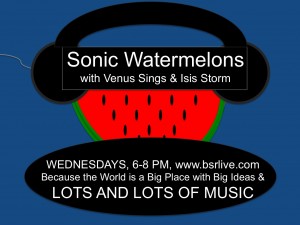 Hear Sonic Watermelons live every Wednesday
6-8 PM (EST) on www.bsrlive.com.