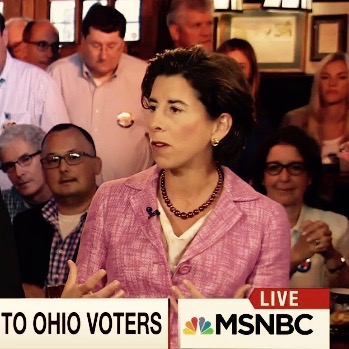 It's too easy to make a mountain over Mika Brzezinski's mistake in referring to Governor Gina Raimondo as a Republican. (I engaged in this myself on Twitter when I first heard the news, learning the hard way that @MorningMika is a woman.) But far more should be made of Raimondo's statement regarding her rushing home so that she can watch Hillary Clinton's acceptance speech with her daughter.
"I'm racing home tonight to watch [Clinton's] speech with my 12-year old daughter because I want to be there with my daughter. This is real. This is an historic moment," said Raimondo.
Love Hillary Clinton or hate her, Governor Raimondo is right, this is a historic moment. The first woman presidential nominee from a major party in the history of the United States is accepting the nomination this evening. As the father who attempted to instill a confidence about their full equality in his two daughters, I can't help but feel this historic moment intensely.
The election will play out as it must, and the politics will be dark and dirty and full of terrible reveals. I don't expect a Clinton campaign to solve the problems of misogyny any more than Obama's presidency solved the problem of racism. Should Hillary Clinton become president, I don't expect her to be a great progressive leader any more than Governor Gina Raimondo, the first woman governor of Rhode Island, is. I'm not naive about the politics, or the stakes in this election.
But let's pause a moment on this historical day and reflect.
Here's Gina Raimondo's full appearance on Morning Joe.
Raimondo: Clinton nomination 'a historic moment'

,