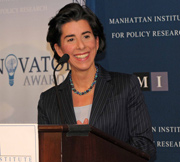 There is an old saying in politics. "Don't tell me what your priorities are. Show me your budget, and I will tell you what your priorities are."
Over the course of her first term as General Treasurer, Gina Raimondo, when pressed to make a choice stand with workers or with Wall Street she will choose her friends from New York over hard working Rhode Islanders. At least thus far.
She was endorsed by working men and women throughout Rhode Island and had an opportunity to work with our public employees to collaboratively put together a plan to strengthen our obligation to the men and women who provide vital services for our state. Raimondo chose a different route.
The treasurer chose to call on her Wall Street friends to fund a front group by the name of Engage RI. They raised nearly $1 million, and proceeded to travel from town to town, city to city pitting RIPTA users vs. public employee retirement security, pitting social service providers vs. public employee retirement security, pitting small business owners against public employee retirement security, and worst of all pitting school children against the very public school teachers who work with children every day.
In the end big business financing, financial manipulation, scare tactics, and pitting one Rhode Islander against another was enough to secure passage of the  what has been called "the single most harmful pension reform ever passed in the United States."
Frozen COLA's, slashed defined benefits, massive increases in age requirements, and 401k's with an anemic 1 percent match were just some of the ways Treasurer Raimondo chose to deal with this particular obligation to hard working Rhode Islanders.
Fast forward to 2012, the 38 Studios deal has proved to be a failure and the state is on the hook for over $100 million in the form of a "moral obligation" bond. The dust had yet to settle from media reports and the Governor's announcement concerning the state's role in this failed venture there was the treasurer calling for the state to honor its "moral obligation" to the bond holders. She made her opinion known early and often, and continues to assert the state must pay in light of the fact other elected officials, and industry leaders have expressed concern and feel it may not be in the State's best interest to pay.
As a proud public servant who works side by side with hard working men and women every day it is alarming an elected official in this case the treasurer would put such extraordinary effort into persuading the state to walk away from its "moral obligation" to public employees and teachers.
What is even more alarming is while the treasurer advocated for the state's "moral obligation" to hard working Rhode Islanders be broken she has consistently asserted her position we cannot under any circumstances walk away from our "moral obligation" to bond holders. I find these two contrasting positions to be especially concerning, and they lead me to question who exactly does our General Treasurer – with gubernatorial aspirations – stand with?
Does she stand with the cashier at the local market, the gas station attendant at the local gas station, the cook at one of our great restaurants; the life guard at one of our beautiful beaches. Does Raimondo stand with the child care provider, the painter, the lobsterman, the nurse and the bus driver?
Or Does the Treasurer stand with the Wall Street insider, the bond holder, and hedge fund partner? Does Treasurer Raimondo stand with John Arnold former ENRON Executive who pumped more than half a million into Engage RI while she pumped her fists to crowds at the State House.
"Don't tell me what your priorities are. Show me your budget and I will tell you what your priorities are."
Gina's Moral Obligation: Wall Street, Not RI

,