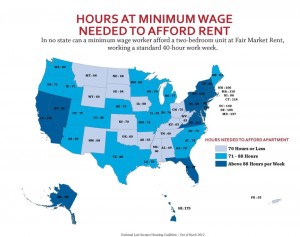 Last week in his State of the Union address, President Barack Obama called on both Chambers of Congress to either work with him to move the country forward or forcing him to use his presidential powers to enact  policy. 
He rattled off dozens of policy initiatives for Congress to consider this session, including immigration, emergency unemployment, manufacturing, trade, environment, education, closing Guantanamo Bay, closing tax loop holes, job training, family policies, and retirement savings. But the President also called for an increase in the nation's minimum wage to provide America's worker's a living wage.
The president used his speech as a very visible bully pulpit to call on states to not wait for Congressional action to give people a living wage.

Although creating jobs will be one of the top campaign issues that must be addressed by the state's gubernatorial candidates (Clay Pell was not available for comment by press time), look for the minimum wage issue to pop up for political discussion with the Democratic and Republican views being like two sides of a coin. 
When he announced his bid for governor, Mayor Taveras he told his supporters that increasing the minimum wage is a step in building an economy that supports higher paying jobs, puts people back to work and gives Rhode Island families the opportunity for a better life. There was a time when his mother worked at the minimum wage to support three children so he knows firsthand how much raising it can help a family, he stated. He is also pushing for statewide universal pre-kindergarten.
Tarveras quoted from a recent study by the Economic Policy Institute that indicated that increasing the minimum wage to $10.10 an hour would increase the wages of 65,000 Rhode Island workers and indirectly benefit an additional 26,000 more, totaling nearly 20 percent of the work force.  He cited another study that found that moving to a higher wage would boost the national economy by as much as $22.1 billion, creating as many as 85,000 new jobs."
"I'm a Democrat who believes in raising the minimum wage and indexing it with regular cost of living adjustments," noted Treasurer Gina Raimondo, in her announcement to run for Governor at Hope Artiste Village in Pawtucket.
According to Eric Hyers, Gina Raimondo's Campaign Manager, "Gina strongly believes that we need to increase the minimum wage and she was pleased to see President Obama call for increasing the minimum wage to $10.10 an hour during the State of the Union this week.  No one who works full time should live in poverty.  As the President said, it is time to give America a raise."
"But let's not wait for a dysfunctional Congress to act; we can take action right here in Rhode Island," Hyers said.
"Gina is calling for us to take action on this now and raise the minimum wage to $10.10 by 2015 and then index it to the cost of living so that politicians can't play games with people's lives. Two-thirds of minimum wage earners are women so a raise would immediately help women across Rhode Island and their families, adds Hyer, noting that people are really struggling and there is an urgency to help out working families.
Meanwhile, "Clay [Pell] is in favor of increasing the minimum wage to $10.10 per hour and does not see a reason to delay this matter until 2018 or 2015. He would be in favor of the General Assembly passing legislation this year. Too many Rhode Islanders are working in jobs at wages that are simply insufficient and no individual who works a full time job should have to raise their family in poverty. There's an economic development aspect to this as well, by raising the minimum wage we're putting more purchasing power out there, which will help spur the economy," said Bill Fischer, Pell's spokesperson.
General Contractor Todd Giroux, a Bristol resident who seeks the Democratic nomination for Governor, sees the national conversation of increasing the minimum wage as shifting towards that of providing America's workers with living wage.  According to Giroux, President Obama's call for a national minimum wage increase for federal contractors increases the "momentum for main street people to call upon elected leaders to represent their needs in jobs and wage security."
Beginning May 2014, Giroux proposes the $ 8.00 minimum wage to be called a provisional starting wage for new hires for the first two weeks of employment.  This hourly rate would increase to $ 9.11 after their second week. On January 2015, the provisional starting wage would be $ 8.75 for the first two weeks of employment, increasing to $10 per hour after their second week.  Full-time, part-time and seasonal workers would be eligible for this salary increase.
Giroux believes the only way to effect a livable wage is to lower a person's tax burden and increase the state's mandated minimum wage. " The Public Utilities Commissions' thirty percent increase in the cost of utilities, combined with rising fuel, housing expenses and food work against any [political] argument on increasing the minimum wage," Giroux says.
But the Rhode Island's GOP candidates, Cranston Mayor Allan Fung and businessman Ken Block, are not buying the Democratic candidate's solution that minimum wage is the way to go.
"Democrats continue to recycle bad ideas. It's time we consider some new ones so people have the opportunity to succeed and thrive, and not rely on government coercion to dictate wages. Increasing the minimum wage will result in higher unemployment, reduced job opportunities, reduced customer spending, and will reduce net job growth because of the effect on expanding companies," says Mayor Fung
Mayor Fung states "At a time when we are tied for the highest unemployment in the country, we cannot put more hurdles in front of the companies we have here in Rhode Island; we need to remove them. Further, Obamacare is already hurting workers because employers are transitioning employees to part time work because they cannot afford the healthcare premiums. An increase in the minimum wage would only increase the burden on small business owners who are already working on thin margins."
"The real issue in Rhode Island is unemployment and getting our workforce prepared with the necessary skill set for the ever changing workforce. It is quite evident that raising the minimum wage would not solve these problems," adds Fung.
Block agrees with Fung, noting in a recent statement, "As I said the other day when it was announced that Rhode Island has the worst unemployment in the country, raising the minimum wage is a job killer."
Block adds, "President Obama seems to believe that government can just order the economy to improve. Republicans and independents know that government has a critically important, but limited role in the growth of jobs. Government's role is to regulate fairly and only where necessary, and to control its spending so people and businesses are not taxed to death. President Obama continues on the wrong track to fix lagging employment, just as the Democratic leaders of our General Assembly continue on the wrong track to fix Rhode Island."
Mazze weighs in
But Edward M. Mazze, Distinguished University Professor of Business Administration, at the University of Rhode Island, puts in his two cents into the policy debate, too.
On the one hand, "Raising the minimum wage does not create jobs and can reduce the number of hours worked for existing workers and the number of jobs for part-time workers. There could also be an impact on the number of internships offered to high school and college students.  And, just as important, raising the minimum wage will also raise the price of products and services, observes Mazze.
"The minimum wage is not the entry point to middle class, it is the jobs that pay over $20 an hour and have a "career" future, says Mazze, noting that Rhode Island recently increased the minimum wage.
But, Mazze believes that the state's minimum wage should be adjusted every number of years to keep up with inflation and other economic events.  "The best way to create living wages in Rhode Island is to prepare workers for jobs for the future, have an economic development strategy that creates jobs and attracts businesses, and have affordable housing and a fair sales, property and personal income tax program," he notes.  
With the Rhode Island General Assembly geared up to pass legislation to make the Ocean State an easier place to do business, lawmakers should not forget their constituents who cannot pay their mortgage, utility bills, or even put food on their tables.  Until the state's tax and regulatory system primes the economic pump to create more jobs, giving a little bit more money, say $10.10 per hour, will go a long way for tens of thousands of poor or working poor Rhode Islanders who struggle to survive.
How can Rhode Islander's currently making a weekly paycheck of $320 (minus taxes), receiving a minimum wage, support their families?  This is not the American Dream they were brought up to believe in.
Herb Weiss, LRI'12 is a Pawtucket-based writer who covers, aging, health care, medical and business issues.  He can be reached at hweissri@aol.com.
Raising the minimum wage creates partisan divide

,