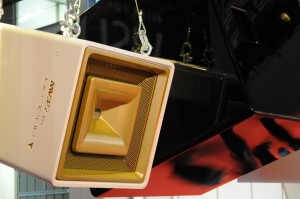 Our trip to Amsterdam was a great success. We previewed a new product line, and we expect to be building a good number of them up at the factory. As you can see from the photo, it's an industrial design / high fit-and-finish approach that puts us in a league by ourselves. And all that glossy, shiny stuff comes from New England shops. Only the wood, the transducers and the few electronic sub-assemblies come from overseas – most of it from Europe. The "value" is added in Whitinsville, MA.
It was my first trip to Holland, and it left some strong impressions on me. The following are just random observations of what I encountered. As you'll see, everything and everywhere has it's pros and cons.
You Cannot Imagine How Many Bicycles There Are
Seriously, no matter where you've been – even China – you've never seen a greater concentration of bicycles than in Amsterdam. There are great piles of them. At the Central Station, there is a multi-story parking facility just for bikes. And it's jammed full.
Almost all the bikes are the same – single-speed, upright style. This is because the city is dead flat with canals creating great arcs that reach more than a mile in from The Dam.
The record-setting cold was no impediment to the cyclists. You see them at all hours of the day and night pedaling along with no gloves and no hats. Bicycle helmets are unknown.
The bike lanes are all over – in the street, on the sidewalk, in separated areas – and it's easy to find yourself accidentally walking in one of them. Big. Mistake. Bike lanes also carry scooter traffic. More than once I found myself leaping for the safety of the pedestrian zone.
It's Not Particularly Clean
I was struck by the high amount of litter in Amsterdam. There are lots of public trash receptacles, but they're not always used. Trash collection itself is just bags and piles left on the sidewalk. And I didn't see a pattern of which neighborhoods got trash collected which days. It seems like they just put the stuff out whenever they feel like it.
Since so many people smoke, there are cigarette butts all over the place. Perhaps it was that I was there during a particularly cold and windy period, but newspapers were also blowing all over the place. Food waste didn't get any special treatment, either, and I'm somewhat surprised that they don't have a serious problem with rats.
It's More Diverse Than You Might Expect
The ethnic make up seemed more-or-less in line with what you'd see in the US. Many Middle Eastern, North African and sub-Saharan faces, and in a range of places. Tram conductors and drivers, fork-lift operators, shop keepers, cabbies all showed that it's not just Whitey over there. Or, um, Van Whitey, I suppose.
In my scant non-sleeping downtime, I managed to find two different hipster neighborhoods. In the one with the restaurants, we found an excellent place that served Turkish and Iranian fare. Tiles for the interior were commissioned out of Iran, and the ones in the men's room are to die for.
The Dutch seem to have a predilection for Argentinean stake houses, although the one we went to in a tourist district was nothing special and highly overpriced. They also have a lot of Indonesian Restaurants, but I didn't get the opportunity to go.
It's 24/7…NOT
What we do at these tradeshows essentially amounts to theatrical production, so you find that you need this or that and you need it NOW! Holland is not a good place to find yourself in this situation. Most shops – and I mean coffee houses, convenience stores, etc. – open at 9am and close at 6pm. Some of them push the envelope and open at 8am.
There's one place – ONE – that opens at 7am, and that is such a big deal there that the name of the shop is "At 7". Want to get a pack of smokes at 2am? You're out of luck.
They Like Being Dutch
It should come as no surprise that the Dutch think that being Dutch is awesome. Most cultures think well of themselves. They're not too keen on remonstrations from pompous travelers from the US who are shocked and annoyed that no hardware stores will be open on Sunday and that if you want a coffee at 5:30am, you had damn well better have a percolator in your hotel room.
My colleague and I actually got the double-scolding of "tisk-tisk-tisk" PLUS the finger wag for bringing to-go coffees onto the tram.
It's Good to Be Home
On balance, I could live in Amsterdam – I'd just have to up my planning to ensure that I have everything I need for the overnight and Sunday shutdown periods. I'd bike – like them – in the cold and rain and snow. I'd shop the open air stalls on the Albert Cuypstraat.
But it's always great to come home to everything that's familiar. As we say in my family: Home is the place that, when you have to go there, they have to let you in.