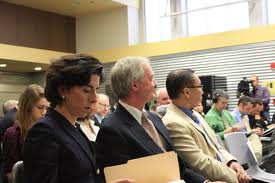 Gov. Linc Chafee first floated to Treasurer Gina Raimondo the idea of negotiating with labor on pension reform just three days after the November election, over a pastrami sandwich, during a working lunch between the two political leaders.
A letter from the governor to Raimondo dated November 13 thanks her for joining him for lunch on Friday and asked her to discuss with him further the idea of negotiating a settlement with the unions whose current and past members were hurt by cuts to their retirement plans.
Here is Linc's letter to Gina:
Dear Treasurer Raimondo (Chafee crossed this out and wrote in "Gina")

Thank you for lunch Friday. My pastramì hit the spot. And our conversation on current events was lively.  One issue l would like to explore further than our brief discussion at lunch is pursuing the possibility of a  negotiated settlement to the Rhode Island Retirement Security Act litigation pending before the Rhode island Superior Court.

It is common practice for settlement discussions to be held while litigation is proceeding. l would not make this suggestion if I did not believe the result could be favorable to the Rhode isiand taxpayers. And l also  believe I can answer in greater detail some of the concerns you raised on Friday. All litigation has chances of  success and failure and it would be beneficial to our economic standing to have the major court cases associated with pension reform resolved amicably.

I look forward to exploring this further with you and labor leaders when appropriate.

Best Wishes,

Lincoln D. Chafee
Raimondo replied 15 days later. Here is her response:
Dear Governor Chafee,

Thank you for your letter of November l3, 2012. On advice from our counsel, it is not  appropriate to pursue the matters you raised. The legislation passed by the General Assembly represented the culmination of ll months of thoughtful, fact-based analysis and input input  retirees, employees and taxpayers.

As we agree, it would be devastating to the state and the fiscal health of mnany municipalities if  the Rhode îsland Retirement Security Act of 2011 was overturned. And perhaps most importantly, the retirement security of our public employees would again be in jeopardy.

I look forward to conitinuing to work diligently together to defend this important piece of legislation to protect Rhode IslaI1d's future.

Best Wishes for a happy holiday season.

Sincerely,

Gina M. Raimondo
General Treasurer
Providence Journal reporter Mike Stanton referenced the letters in his piece on Chafee and Raimondo's disagreement in today's paper. You can read both letters here.
And here's the rest of our coverage on this:
Dueling Letters: Chafee to Raimondo and Her Reply

,