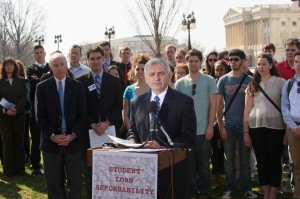 Thanks, presumably, to President Obama's historic announcement of support for marriage equality, Rhode Island's entire congressional delegation now believes gay couples should enjoy the same relationship rights as heterosexual couples.
Senator Jack Reed was the lone holdout to support same sex marriage among the state's beltway pols, but about three hours after the president announced he now supports marriage equality (and no small amount of pressure from local supporters of equality) Reed's office sent out this tweet:
"I support same sex marriage and will cosponsor the Respect for Marriage Act. #MarriageEquality #LGBT" (Reed usually initials the tweets he authors himself, so it looks as if although it was written in the first person, it was not written by the senator)
How about that for a change of heart! On Tuesday, he told the Projo he still hadn't decided whether or not to support marriage equality, then, about 24 hours later, he wants to co-sponsor the legislation!
Still, though, Reed wasn't doing much bragging about his new position on marriage equality. He was the lone member of the delegation to NOT respond to a request for a statement on the president's new position. And Reed's office frequently sends RI Future comments and the like when it comes to other progressive issues such as student loan rates or tax equity.
He did give a comment to the Journal: "I've been thinking and deliberating about this for many, many months," said Reed. "I believe it's appropriate to support same-sex marriage and as a result to support the Respect for Marriage Act."
Ray Sullivan, the campaign director for Marriage Equality Rhode Island, thanked Reed for finally supporting equality, saying in a statement:
"We are very grateful to Sen. Reed for adding his voice to the growing chorus of Americans calling for marriage equality. As someone who is respected by members from both sides of the aisle, Sen. Reed's support for the Respect for Marriage Act will provide significant momentum to the effort to pass this important civil rights legislation. We look forward to working with the senator and all members of Rhode Island's federal delegation to guarantee equal access and protection under the law for all loving, committed couples."
Earlier in the day, Sullivan publicly called on Reed to come out for same sex relationship rights, writing:
"Today, President Obama reaffirmed the American ideal that all citizens should be treated equally. It's been 224 days since Sen. Reed promised to make a decision on this important civil rights issue 'very shortly.' With President Obama, Vice President Biden, every other member of our Congressional delegation and a majority of Rhode Islanders all supporting equal rights for LGBTQ citizens, it's time Sen. Reed told us where he stands."
And now he has.
UPDATE: An earlier version of this story indicated Reed was the only member of the delegation to respond to a request for comments. It should have read NOT respond.