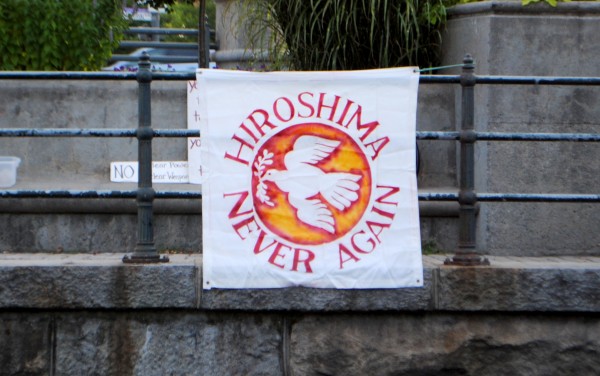 Today is a state holiday in Rhode Island. It's a day some of us have off and some of us don't, depending on whether or not we work in Boston, or at some retail job, or for an instate union or government employer. We used to call it VJ Day, for Victory over Japan, but now we call it Victory Day, if we call it anything at all. Many of us are sheepish when it comes to talking about this holiday, embarrassed that we have a holiday to celebrate the apocalyptic conclusion to a terrible world war.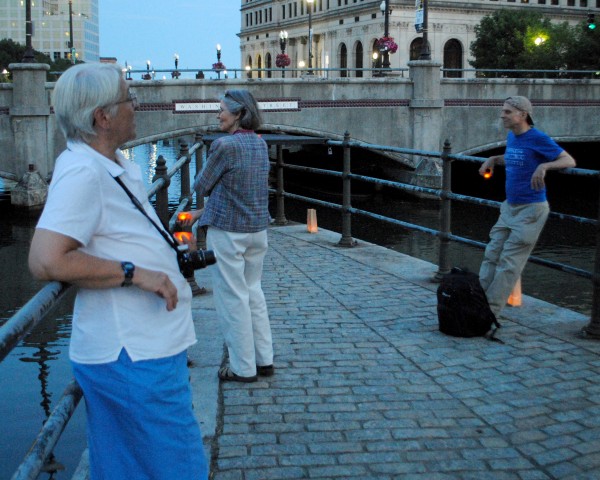 Our Victory over Japan was accomplished via the dropping of two atomic bombs on Hiroshima and Nagasaki, making the United States the only country to ever use the most horrific and destructive weapon of war ever developed. One bomb killed half the population of Hiroshima. Another killed half the population of Nagasaki.
This isn't something Americans feel proud of.
On Friday night members and friends of AFSC-SENE gathered in downtown Providence, where the rivers meet near Steeple St, to silently reflect on the events of that day sixty-nine years ago, and to listen to Joyce Katzberg sing about the possibilities of a world without war and nuclear bombs.

.

.

.

.

.

.