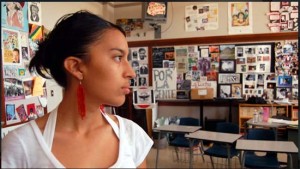 Rhode Islanders have a special opportunity to express solidarity with young people and educators in Tuscon, AZ who are standing up to their state's xenophobic and racist laws. On Sunday, January 15th, feature length documentary, Precious Knowledge, will be screened at Renaissance Church located at 77 Reservoir Ave in Providence.  Precious Knowledge, which will be aired on PBS affiliates across the country this spring, chronicles the real-life, current civil rights struggle by students and educators to save their Mexican American ethnic studies classes in Tuscon, AZ.  Screenings will be at 3pm and 5:30pm with a discussion in between with special guest, Tuscon High School ethnic studies teacher Curtis Acosta!  There is a $10 suggested donation and proceeds will go to benefit the Save Ethnic Studies legal defense fund.
Watch the trailer:
As most know, Arizona has passed some of the most restrictive laws in the United States targeting and criminalizing undocumented immigrants, many of who are of Mexican descent.  A less known detail of Arizona's attack on immigrant populations, and Mexican Americans in particular, is Arizona's state superintendent of public instruction Tom Horne's crusade to end the Tuscon Unified School District's Mexican American ethnic studies program.  Last year, the New York Times ran an article about Horne's attack and students' and educators' struggle to maintain their program of study that focuses on Latino/a history, literature, and culture, and includes examining the history of oppression Latino/a populations have faced in the United States.  The struggle over Tuscon's ethnic studies program has continued for the past year, and just yesterday the most recent development surfaced when the TUSD's school board voted 4-1 to immediately cease all Mexican American (but not other) ethnic studies classes for fear of losing state aid.
In the meantime, Save Ethnic Studies, is pursuing a federal court case to declare the law criminalizing TUSD's Mexican American studies classes unconstitutional.  Also yesterday, as reported via an email from Curtis Acosta, "Hours before the [TUSD school board] vote, Ninth Circuit Court Judge A. Wallace Tashima rejected the state's request to dismiss our lawsuit claiming the law as unconstitutional and it continues to move forward. To be more specific, the students in the lawsuit were acknowledged to have standing, but the teachers at this time do not. This is great news since we are all working together for the best interest of our students and their future. My colleagues and I are more committed than ever to help the student-plaintiffs in every way possible. Thus, Save Ethnic Studies is still moving forward in hopes that we can still overturn this law in federal court and it could be as early as this spring. It is important, now more than ever, to visit our website and spread the knowledge that we will need financial support to win this case."
It is more important than ever to support our sisters and brothers in Tuscon.  What better way to remember Dr. Martin Luther King, Jr. and express our solidarity in recognition that "we are all Arizona" than to attend the Precious Knowledge screenings on Sunday!  I hope to see you there.
For additional information about the documentary screening, contact Kim Hewson at hewsonpaw@gmail.com.