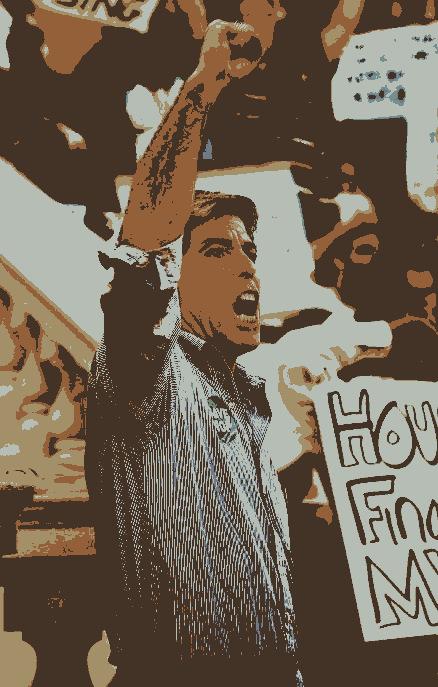 If a place like Heaven exists, I would liked to have been there when John Joyce checked in the other day.
"So you overcame inner demons and homelessness to become a 24-hour-a-day advocate and activist for the most downtrodden people in all of society," St. Peter would have noted approvingly while perusing Joyce's impressive karmic resume.
And if the Almighty's criteria is anything like mine, then John Joyce gets the fluffiest corner cloud on the heavenly block. "We've reserved a special suite for you, Mr. Joyce," St. Peter would say with a smile as he shakes Joyce's hand with a respect reserved for only the most deserving residents. "Your new neighbors Gandhi and Mother Teresa will show you the way."
I didn't know John Joyce all that well but I knew him well enough to know that he exemplified almost everything that, to my mind, makes someone good – from the meta to the micro. His life was dedicated to social justice and he never, ever missed an opportunity to let someone know that he cared.
His famous farewell – "be safe" – spoke to both his intentions and his experiences. I don't believe he cared if anyone was happy until everyone was safe. And damn near every time he delivered that line to me I was forced to remember that there are people out there who can't afford to take even their personal safety for granted. It was more than a pleasantry, it was a powerful political statement.
My guess is younger John Joyce would never imagine maturing into an activist, but he's probably among the most noteworthy progressive crusaders Rhode Island has known in a long time. He cut his chops political chops during the Tent City movement in Providence, when a group of homeless people set up their own attempt at utopia on a vacant city lot. He was an influential figure behind the scenes with Occupy Providence. He's a co-founder of the Rhode Island Homeless Advocacy Project. He authored and ushered-through the nation's first ever Homeless Bill of Rights.
He spent his days both mingling with the least fortunate and fighting the most powerful. There were times I'd see him taking care of a dirty drunk on Westminster Street in the morning, then in the afternoon I'd see him giving hell to a stuffed suit at the State House. He had all the wrong friends and all the right enemies.
Yet, I can't recall ever not seeing that signature smile on his face. He lived through and worked every day with the most impoverished situations in Rhode Island and he seemingly never stopped smiling. Even when he told me he had terminal cancer, he still wore that same fuck-you smile. It takes a special kind of soul to wear a shit-eating grin when discussing your own impending death.
That was his gift. He looked even death in the face and smiled. No wonder he was able to beat the streets.
Whether there's a heaven or not, I don't worry at all for my friend John Joyce. He's a survivor and he'll be just fine where ever he is now. Rhode Island, on the other hand, lost an irreplaceable activist last week and one of our all-time great progressive heroes.