Representative David Coughlin, who represents District 60 in Pawtucket, ran unopposed during his first election, becoming a state rep with just 725 votes during the 2014 Democratic primary. As a first year legislator he has been a reliable vote for Speaker Nicholas Mattiello's agenda. Coughlin voted for the truck tolls, Tiverton gambling and the subpar minimum wage increases passed last year.
So it was with some surprise that I received an email from a reader containing a screenshot of a Facebook post from Coughlin that seemed to indicate a willingness on his part to break ranks with the Democratic Party over marriage equality. Coughlin's District 60 predecessor, Elaine Coderre, was a co-sponsor of the marriage equality legislation that ultimately became Rhode Island law.
Coughlin shared a link to a Washington Post piece entitled, "Republican National Committee reaffirms its opposition to same-sex marriage" and wrote:
My recollection is my Democratic Party barely squeezed out a majority of the popular vote last November. If the leadership keeps pandering on this issue they may find a conservative element of the party changes allegiances giving the Republicans a very solid majority next time around."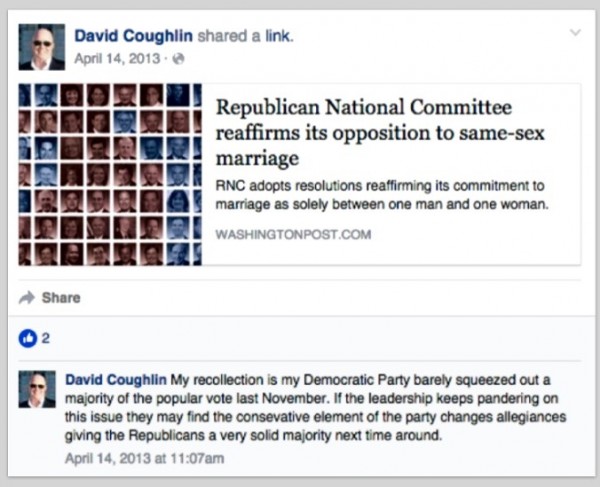 Coughlin's post seems to indicate that the Democratic Party position on marriage equality is "pandering" and that conservative Democrats might bolt the party over this issue and become Republicans.
I emailed Coughlin and House Communications Director Larry Berman for clarification. I wanted to know if Coughlin considered himself part of the "conservative element" of the Democratic Party and if he supports marriage equality. One also wonders if Coughlin would be willing to change allegiances and switch to the Republican Party, as did Representative Karen MacBeth last week, over this or other conservative social issues. His Facebook post seems to indicate that he might.
Coughlin and Berman declined to respond to my emails.
Rep Coughlin: Democrats 'pandering' on marriage equality

,