You know your wedding is a big deal in Rhode Island when reporters from NBC 10, RIPR, WPRO and the Associated Press all want to interview you about it. Such is the case for state Rep. Frank Ferri and his longtime husband Tony Caparco, who are re-affirming their wedding vows to one another now that their home state recognizes their legal right to do so.
The big day is Thursday, August 1 – for both Rhode Island and Ferri and Caparco.
"We're very excited," Tony told me on the phone today and Frank fielded a call from another local reporter. "It just means so much to us."
Ferri and Caparco have been together for 32 years and they were married in Vancouver in 2006. It was their 25th anniversary together.
"That was a more simple ceremony," Caparco said. "It was more low key and emotional."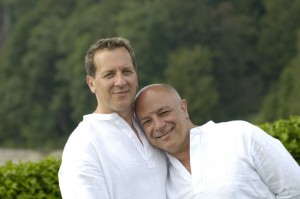 Their second wedding on Thursday, they both said, will be more of a celebration of their right to marry in Rhode Island – an effort that both were an instrumental part of.
Ferri was politically active in the campaign for marriage equality when they married in 2006, but he was still 14 months removed from declaring he would run for elected office. Fast forward to 2013 and, as a high-profile and highly respected openly gay legislator, Ferri was a crucial part of the very successful campaign to pass same sex marriage rights in Rhode Island this year. House Speaker Gordon Fox, who is also gay and was perhaps even more instrumental in marriage equality, will marry Frank and Tony on Thursday.
While the whole affair has the feeling of a royal wedding, Ferri said it doesn't seem so from he and Tony's vantage point.
"It's a little bit stressful," he told me when he got off the phone with another reporter. "We're still pulling all the details together."
The rehearsal dinner is tonight for the 35 person wedding party. And as Ferri and I chatted, yet another reporter called. In the background I could hear Tony tell him a TV crew would be at their house in 45 minutes.
"45 minutes," Ferri said to his fiance, "I'm not even shaved yet."
Rep. Ferri and his husband Tony ready for big wedding day

,