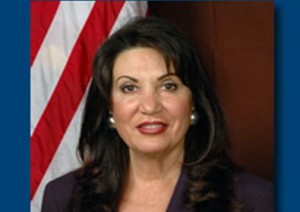 Today's ProJo ran a piece on the expected passage, later today, of H5015, the Marriage Equality bill. The piece ran some quotes from Representative Charlene Lima that surprised me.
"We were sensitive to an atheist in Cranston to take down a prayer banner" she said, referring to a legal challenge that led to the removal of a prayer banner at Cranston High School West. "I don't see why we can't be sensitive to the Catholic Church."
Lima's public statements on the prayer banner, made at a school committee meeting, demonstrate anything but sensitivity.
She implored the school committee to appeal the ruling, a move that would have put the city and its struggling schools on the hook for anywhere between $250,000 and $1 million. She felt that the judge's ruling was not justified given the facts of the case. There is no reason to believe that she has changed her opinion.
Her quote in the ProJo shows that her priorities, then, during the prayer banner kerfuffle, and now, during the debate on marriage equality, are squarely in line not with the citizens of the state of Rhode Island, but with the narrow agenda of the Roman Catholic Church.
During the hearings conducted at the house last Tuesday evening, Lima asked Father Bernard Healey about the living arrangements of married couples at Providence College. She was worried that PC would be forced, under the law, to house married gay couples, against the conscience of practicing Catholics. Father Healey had no answer for her regarding this issue. In fact, that evening, Rep. Lima was the only person to bring the issue up. Three philosophy professors from PC testified against the bill, but never brought up that particular issue.
Rep. Lima Defends Her Religion Over Equal Rights

,