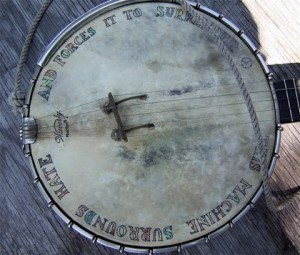 Pete Seeger did have a hammer.
It was a five string banjo that had this message on it: "This machine surrounds hate and forces it to surrender."
And with that machine he spent his entire life hammering out danger, a warning and the love between his brothers and my sisters all over this land.
And he hammered out these values right here in Rhode Island.
Pete Seeger, who died yesterday in New York at age 94, is the world's best-known pure folk performer and was an undisputed leader of the movement for social change in the 1960's and beyond. According to his New York Times obituary: "His agenda paralleled the concerns of the American left: He sang for the labor movement in the 1940s and 1950s, for civil rights marches and anti-Vietnam War rallies in the 1960s, and for environmental and antiwar causes in the 1970s and beyond."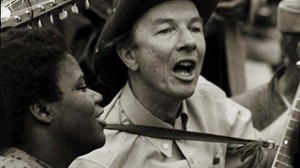 Pete Seeger, wrote Rolling Stone, never had a top 40 hit, but he wrote some of the most popular protest songs of the sixties like "If I Had a Hammer," "Where Have All The Flowers Gone" and he's the first (not the Byrds) to put the book of Ecclesiastes to music with "Turn, Turn, Turn." He is literally the link between Bob Dylan and Woody Guthrie.
But perhaps he's best known for playing folk music in Newport, Rhode Island. In 1959, The Newport Folk Festival was spun off from the Newport Jazz Festival and Seeger was on the Board of Directors of the new all-folk (but not for long!) show.
The Newport Folk Festival has a great ongoing tribute to Seeger this morning on their twitter feed this morning, including this: "can't sum him up in a headline: Folksinger Troubadour Activist. Instead we prefer Pete Seeger, amazing human being, died today. aged 94."
Here he is playing with the Newport Folk Festival Allstars in 1959:
My step-dad, Don Wilkinson, was a Weavers fan back then and didn't miss a Folk Festival until he went to Vietnam. I called him this morning to offer my condolences and he bent my ear a little about the earliest days of the Newport Folk Festival.
"I was in high school, I was looking for girls," he told me. "It was the thing to do in Rhode Island. They literally shut down Aquidneck Island at 2 in the afternoon. I bought a Vespa because you couldn't get a car over on the ferry."
About Pete Seeger in particular he said, "You've got to remember, they all sang together back then." But he said Seeger's story telling left an impression. "He would play Eerie Canal, but he would have a five minute introduction … why they wrote it and why they sang it they did. He probably talked just as much as he sang."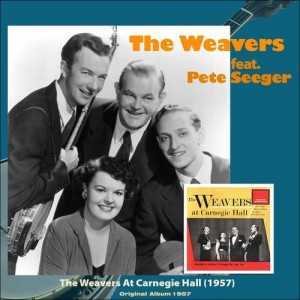 In 1961, he saw Seeger at Edwards Auditorium as a freshman at URI (the same place I would see the Samples my first year at URI a generation later!)
"He was fantastic. It wasn't even sold out," Wilkinson told me this morning. "I went away wanting to play all of his songs."
Willkinson remembered almost every detail about that Pete Seeger show at Edwards. "He was dressed like he was a farmer, he wore a plaid shirt." This was, my stepdad tried to explain to me once again, a radical statement in and of itself in 1961. "He had a whole bunch of instruments behind him – two or three banjos, a couple guitars. It was just a one-man show. He played all those old Weaver songs."
Truth is, I've been hearing tales about Rhode Island Pete Seeger performances from this particular source for as long as we've known each other (1988). "He's in everyone's life now," my step-dad said when I asked him if he was sad to see Seeger go. "He will always live on through his music."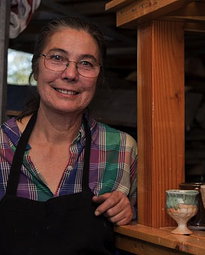 But Pete Seeger also leaves Rhode Island an even more tangible legacy. His daughter, Micah Seeger, is an artist in Tiverton, where she paints and works with clay. And Micah's son Tao Rodriguez-Seeger has become an accomplished folk singer in his own right and still plays community centers and house parties in and around the Sakonnet peninsula, as did his more grandfather. Blogger Michael Leddy writes this morning:
"Pete Seeger was the first musician I saw in concert. I was all of twelve: my dad took me on a Monday night, all the way from New Jersey to Queens. Years later I heard Pete Seeger sing from the porch of a house in Little Compton, Rhode Island."
Mika Seeger and her husband Joe Bossom turned their farm into the now famous Sandywoods development – arguably the most sustainable and progressive residential real estate project in Rhode Island history.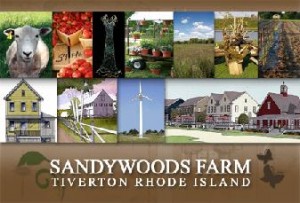 There is still a working farm there, but now there is also a clustered, 50-unit development of mixed-use and live/work apartments and single-family dwellings. There is an art gallery, a commercial component, affordable housing and a thriving Saturday night live music performance. Mika still live in the old farm house. Sandywoods is essentially people of all incomes living and working together, and creating art and playing music and working the land together – and it was started by a Seeger.
There will be a memorial concert at Sandywoods for Pete Seeger on Feb. 14.
Pete Seeger's music lives on for the entire world, passed on from folks like Don Wilkinson to me. And his dream of a more utopian society is being realized at Sandywoods in Tiverton. Maybe, just maybe, by wondering aloud where all the flowers had gone he helped bring them back.