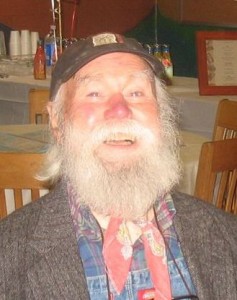 Legendary local progressive activist, author and one-time vice presidential candidate Richard Walton has passed away, confirms the Providence Journal.
The word first spread via his Facebook page, where a friend wrote this morning, "Richard Walton, former reporter, teacher, activist for social justice and the man who got me online in 1989, has died. Peace at last, Richard."
The Providence Journal reports that he died on Thursday of leukemia.
"In his trademark bib overalls and bandana, Walton was a fixture at local anti-nuclear and peace vigils for years," wrote Karen Lee Ziner, of the Providence Journal. "He worked assiduously against homelessness, poverty and hunger."
According to a Wikipedia page, he was "an American writer, teacher, and politician.He was the vice-presidential nominee in 1984 of the short-lived Citizens Party; Sonia Johnson was the party's presidential nominee that year."
"Every year for his own birthday from 1988 to 2011, Walton hosted a substantial fundraiser at his home that was typically attended by several hundred people, including sitting and former governors, senators, congressional representatives, and media personalities who were in some cases his former students," according to Wikipedia, which contains a short summary of his life and his activism