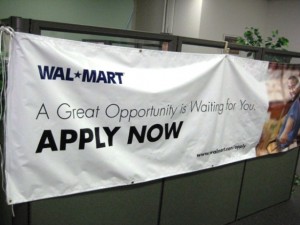 A close analysis of stock market data is an excellent bellwether for determining the financial health of the middle class.  Despite the meteoric rise of the market since its bottom in 2008, there are very negative omens for the middle class if one examines the market data more in depth.  An analysis of stock prices and company performance in the retail sector shows a middle class that is rapidly losing purchasing power.  In contrast, the data also shows that the high end or wealthy consumer is doing quite well.
An investment strategy that has proved consistently successful in the retail space has been betting against the prosperity of the middle class consumer.  Investors have successfully gambled that the middle class consumer will continue to be pushed down to retailers that have traditionally catered to the lower income American consumer.  Some examples of these companies are Dollar Tree, Dollar General, TJ Max, and Wal-Mart.
Retailers that traditionally catered to middle class shoppers, such as J.C. Penny and Kohls, have been losing market share to the "bargain retailers."  This trend is a reflection of the change in the shopping habits of the middle class.  Middle class shoppers are feeling less confident with their financial stability and consequently are trading down to cheaper brands.
In contrast, the higher end retail shoppers appeared to be quite confident with their finances in 2011.  Luxury retailers such as Neiman Marcus, Nordstrom, Saks, Tiffany, and Lululemon saw a healthy demand from their higher end customers.
The data for retail sales in 2011 clearly shows that the purchasing power between the middle class and the rich is widening very quickly. This trend should be carefully noted by all Americans both rich and poor.  One only needs to read a bit of history to see that a disappearance of the middle class is one of the final markers before the implosion of an empire.
Retail Stock Data Proves The Middle Class Is Imploding

,