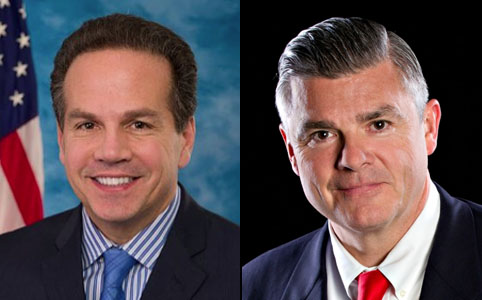 With the recent announcement that Loughlin has decided not to run for Congress, I've been putting some thought into the upcoming CD1 race between Cicilline and Doherty.  It seems that the campaign has gotten slightly more difficult for Cicilline, but I don't see it nearly as much of an uphill battle as some others do.  Granted, Doherty will no longer be subject to a primary campaign, but I just couldn't imagine Loughlin and Doherty being involved in a significantly hostile and antagonistic primary campaign, despite their previous barbs.  The main advantage for Cicilline would have been the Republicans spending their money fighting each other.
Also, even though there has been some speculation about Gemma and Segal jumping in, I can't imagine either of them being candidates this year, so I think Cicilline won't have to go through a primary fight either.  Let's review the circumstances leading up to the 2010 election to explain why:
Some may say this proves that Segal and Gemma have plenty of time to announce, but the situation this time around is different.  CD1 is no longer an open seat; now it is occupied by Rep. David Cicilline.  While Gemma or Segal are still wildcards, and could possibly announce, any Democrat who wants to run a strong challenge against Cicilline probably should be in the race by now.  This is why I think the race will be between Cicilline and Doherty.
And I think Cicilline wins.  Here's why:
Cicilline's message will be (and should be): vote for me so Republicans don't have another seat in the House from which to advocate the destruction of the lives of middle-class Americans.  I know that is hyperbolic, that was my intention, especially considering Obama using the legacy of Republican intransigence as the perfect weapon against Republicans.  Judging by the post Rep. Cicilline submitted to the blog, Standing Together for Progressive Values, he has laid out his main key campaign themes for the election season:
Protect Social Security and Medicare from Republicans who want to destroy them
Protect the Environment from Republicans who want to destroy it
Tax People Fairly to pay for these things that Rhode Islanders actually want (that's pretty important to remember – Cicilline is talking about things that Rhode Islanders care about)
In contrast, Doherty and the Republican and Conservative groups that will be supporting him will look back on Cicilline's experience as Mayor of Providence (since he is a freshman Congressman in the minority party, there are no accomplishments in Congress to scrutinize).  They'll bring up the financial problems facing Providence (ignoring the rest of the country) and blame it all on Cicilline.  But this has already been covered and discussed to death after he was elected, and I'm not sure how much airtime rehashing this theme will get.
Moreover, all we have to do is look to Central Falls, East Providence, West Warwick, and to some extent Pawtucket, and realize that Cicilline didn't cause all these other problems either.  The financial collapse that has destroyed budgets all over the country, and the notable decisions made at the State House to defund cities and town (including Providence), were all far beyond the control of Cicilline.  Also, in spite of what one might think about the way Mayor Angel Taveras handled the "Category 5 Hurricane" Providence faced last year, he handled it.  I don't believe there will be the same crisis mode environment this year, and Taveras's decisions will have largely mollified the degree of panic and anger that was being directed at Cicilline last year, to Cicilline's benefit.  Politically speaking, it happened too soon for it to be as compelling an issue in November as Doherty and his supporters would like.
Two additional thoughts:
Does Loughlin come out and actively support Doherty?  With a campaign account of about $13,000, there's not much financial support Loughlin could offer, but there must be more than a few names on his email list from the 2010 campaign.  When you read Loughlin's press statement, he doesn't even mention Doherty.  I find that strange and wonder if there is resentment stemming from Doherty jumping in the race and stealing Loughlin's thunder while he was in Iraq.
RI redistricting will technically help Cicilline's victory chances by shifting more "liberal" voters into the CD1 district while moving some "conservative" voters out, but will it come with a backlash of unintended consequence?  Will there be a significant number of voters offended by something that appears to be politically motivated?  I still think the net impact is a positive for Cicilline, but one has to wonder.
Rethinking the Cicilline and Doherty Race

,