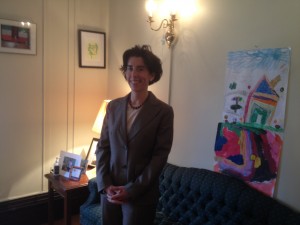 (Editor's note: when I originally posted this item, I mistakenly thought the Muniland post was from this week. It's actually a year old! But since we posted a similar piece earlier today that spoke to the same issue, I amended it and left it posted. Sorry for any confusion.)
The squeaky clean shine seems to be fading on Raimondomania, in some circles.
The rock star treasurer, hailed for pairing down the retirement benefits of public employees, took a few bruises locally this week for declining to sit down with labor leaders who suing the state over her pension reform efforts. And she'll take a few more if and when Judge Sarah Taft-Carter asks the two parties to try to work it out among themselves.
She's taken some in the national media too.
Cate Long, who covers public sector finance for Reuters, wrote on her Muniland blog, "It's getting a little tiresome to hear all the adulation that's being heaped on Gina Raimondo…"
Long writes in a post from last December (not this week, as I initially reported):
…the problems Raimondo addressed were not the biggest that the state faced. The main problem with Rhode Island's pension system is that it has very poor investment returns on its $6.5 billion portfolio of assets. Over the past ten years the state's investments returned 2.47 percent compared with the national median of 3.4 percent (page 6). These returns are in the lowest tier of state pension plans, and this chronic underperformance is causing a substantial shortage of assets to pay retirees.

I'm withholding my praise for Gina Raimondo until the investment returns of the Rhode Island pension plan move closer to the national median. Then state workers won't have to bear the entire burden.
Here's what Ted Nesi wrote about it in January.
Greg Gerritt of the Green Party makes a similar point in a post published today on RI Future. Raimondo led efforts in 2011 to lower the expected rate of return from around 8 percent annually to 7.5 percent. In the last fiscal year, Gerritt reports, the return was 1.5 percent.
So maybe I spoke too soon when I said I trusted Gina Raimondo's actuarial acumen earlier this week. But, way more importantly, shouldn't this be what the former venture capital millionaire is good at – investing the state's money?
Long, who focuses on the last ten years of data to make her point, reports that the "major source of pension plan funding, investment returns on plan assets, has been terrible in Rhode Island. I'm not aware of any discussion or changes in the law to address this issue."
Perhaps pension reform efforts focused too much on contract rights, and not enough on money management. After all, you don't get taken to court for simply making smart investments.
Reuters Blog Blasts Raimondo's Actuarial Acumen

,