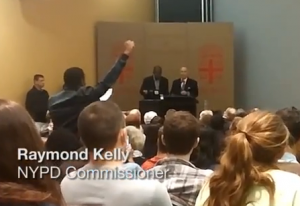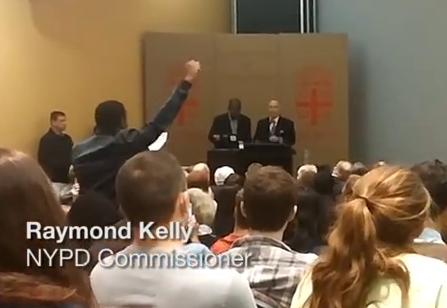 By preventing New York City Police Commissioner Ray Kelly from speaking at Brown University yesterday, local activists and students sent a strong message: "racism is not for debate," members of the crowd yelled over Kelly, who eventually abandoned the podium.
"A grim-faced Kelly left the List Arts Center via a side door after university officials gave up their attempts to bring order to the auditorium and closed the program 27 minutes after its scheduled start," reports the Providence Journal. Kelly is infamous for his stop-and-frisk policy of searching random citizens without cause. A judge has ruled the tactic, known also as "proactive policing," is unconstitutional.
When Kelly began speaking last night, civil rights activists stood up and and drowned out his message with their own. "We want to make this community safer, yet you are making an entire population feel unsafe to believe in our hopes," one young man said. "Our rights are violated all the time and yet you want us to respect your rights?" said another.
Brown was not happy it had to cancel the event. University President Christine Paxson said in a quickly-released letter: "This is a sad day for the Brown community. I appreciate that some members of our community objected to the views of our invited speaker. However, our University is – above all else – about the free exchange of ideas. Nothing is more antithetical to that value than preventing someone from speaking and other members of the community from hearing that speech and challenging it vigorously in a robust yet civil manner."
The Brown Daily Herald had excellent coverage as the events unfolded. Read the student newspaper's coverage here. And check out their great live tweets from the event, such as this one:
VP Marisa Quinn: "I have never seen in my 15 yrs at Brown the inability to have a dialogue." Quinn immediately interrupted by audience.

— Brown Daily Herald (@the_herald) October 29, 2013
At the end of this great video, a student offers a reply to Quinn.
WPRO's Steve Klamkin shared this video:
Rhode Island doesn't listen to Ray Kelly

,