No other state has more per capita regular marijuana users than Rhode Island, according to a new federal National Survey on Drug Use and Health study on drug use by state. Here's the raw data (collected in 2012-2013), and here are the top 10 states for monthly marijuana users who are over 18 years of age.
The District of Columbia had the most annual marijuana users, but Rhode Island still finished second.
Vermont has the most annual pot users among the coveted 18-25 year old demographic, but Rhode Island was again second.
But when it comes to monthly pot users 18 to 25 years old, the Ocean State comes out on top once again.
Rhode Island also has the highest percentage of teens (12-17) who use marijuana monthly and annually, according to the survey.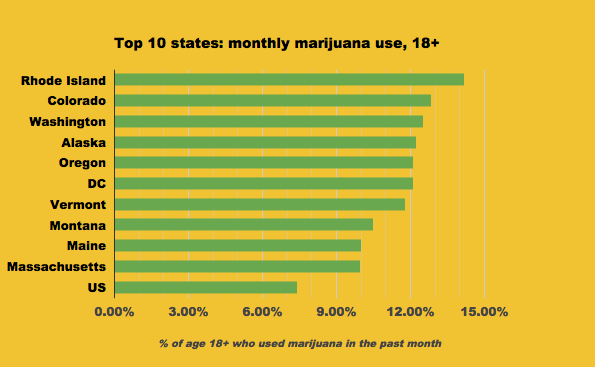 Rhode Island has the most per capita marijuana users

,