The number of jobs in the bustling solar power industry grew by 62 percent last year in Rhode Island – an increase of 130 jobs from 2012. But as Progressive Charlestown points out, we're still lagging far behind every other state in the northeast in this regard and we were one of the worst state's in the nation when it comes to adding jobs in the solar power sector of the economy.
Rhode Island ranked 45th in the nation for new jobs in the solar industry, according to a new report by the Solar Foundation. Only Alaska, Wyoming, Mississippi, Nebraska and North and South Dakota ranked worse than Rhode Island.
And Rhode Island did even worse when compared to our Northeast neighbors (though per capita, we ranked higher than both New York and Connecticut).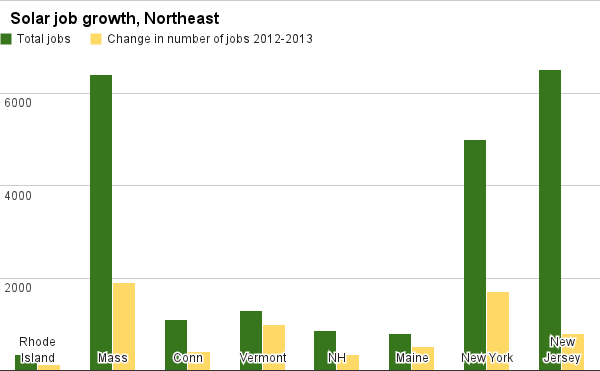 Why our other northeastern states doing so much better at growing the solar sector of their economies? Here's what Abel Collins, program director for the local chapter of the Sierra Club, wrote on this blog last week:
Rhode Island solar installers have been forced to look for work in Connecticut and Massachusetts where strong renewable incentive programs have stayed in place. For the sake of the environment and our struggling economy, it's time to rectify this situation. The good news is that there are already a couple of new programs in place that should help, and there a couple of renewable energy legislative initiatives that could become law this session.