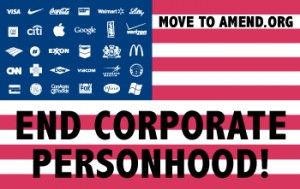 Rhode Island Move to Amend  held a meeting Monday night at the Warwick Public Library  to discuss ways in which to reverse the Supreme Court's controversial and unpopular Citizens United  decision. House Bill 6051, introduced by Representative Art Handy, seeks to challenge the Supreme Court ruling by asserting that Corporations are not persons and that money is not speech. Passing such a law, in direct contravention to the Supreme Court could have several effects. The Supreme Court may strike down the law upon consideration or it may use the law to reconsider it's previous decision. Supporters say that both outcomes will lead to fresh discussions on the corrupting influence of money on our political system.
Over the course of the next several months Rhode Island Move to Amend will be working to engage the public and our legislators over this very important issue. You can help by joining Rhode Island Move to Amend.
Major rhetorical territory was staked out at the House Judiciary Committee meeting held on May 9, to discuss the bill.  Abel Collins, who heads up the Move to Amend Coalition, stated it plainly when he said, "Now is the time to stop [corporations]… which are really just legal fictions, from having the same rights as persons."
Chris Curry, of RI MoveOn.org, spoke forcefully of the dystopian impact of Citizens United.
Of all the issues we address, nothing even comes close to matching Citizens United's ability to inspire rage and indignation in just about everyone I talk to. Not because it's so fundamentally dishonest that corporations are people or that money equals speech, it's because they consider the five justices of the Supreme Court who made that ruling to have violated their oath of office by unconstitutionally establishing a framework for a takeover of our country by multinational corporations.
A spokesperson for the RI Sierra Club said, "Rhode Island should get in front of this issue our state was founded by thinkers who were not afraid to be contrarians to the dominant paradigms of the time. We should make a stand and say that our country is for the people and by the people and not for sale to the highest bidder."
In counterpoint, the RI ACLU opposes any legislation that might open the door to restricting political speech, or limiting a person's right to use money to advance their speech.
"I've heard this a lot, that 'money is not speech,'" said RI ACLU Director Steve Brown, "That's a very catchy slogan, but it really simplifies a much more complicated issue. Money is not necessarily speech but it certainly facilitates a lot of speech and it is necessary to facilitate a lot of speech…
If you want to prepare a flyer, and get fifty copies made at Kinko's to express your opposition to this constitutional amendment it costs money. To just say that money is not speech and therefore can be regulated is to say that the General assembly could say, "You cannot spend money if it's to be used to prepare a flyer on a political issue."

We think that the State Constitution would be diminished and demeaned by adding a provision like this into a very important document meant to protect all of our rights.
Amplifying Steve Brown's points and adopting the ACLU's position as his own was a spokesperson for the RI Tea Party, who said, perversely, "Citizens United struck a tremendous blow for the First Amendment," and added,
Money is not the problem. Corporations are not evil entities in and of themselves. Corporations are nothing more than collections of individuals and people who are responsible for their own decisions.

Stepping on the First Amendment is a slippery slope that we cannot walk onto. That is the reason why, for philosophical reasons, that we have to oppose this.
John Marion of Common Cause RI struck a mostly neutral tone. The national organization has not yet reached a consensus on the kind of language it would like to see in a bill designed to take on Citizen's United, and though he appreciated Art Handy and Move to Amend's efforts, he urged caution.
We appreciate the efforts of Move to Amend and the other groups that have come out with specific language, but as Mr. Brown said, this is very weighty a matter. We disagree with the ACLU's belief that you shouldn't tinker because this problem is one created by an interpretation of the Constitution, so it can only be solved by a change to our Constitution.

People talk about Citizens United, Citizens United, Citizens United, but really this is about a case in 1876, Buckley v. Valeo which is the case that basically decided that money is the functional equivalent of speech and therefore since we can't limit the speech, we can't limit the money. So I think its really important that we go back and look at that decision and the context of that decision.
Perhaps the most pragmatic and compelling statement came from Jerry Belair, speaking for the RI Progressive Democrats, not because of his politics, but because of his career as a corporate attorney.
I'm a corporate attorney. I can tell you clearly that a corporation is not a person. We establish a corporation for the purposes of making business easy for us. It's a very successful way of doing business. It's also a means of limiting our liability… That the purpose for these entities. And to even suggest that somehow a corporation has attained personhood under either the Federal Constitution or a state constitution is insidious. It's the most insidious attack on our democracy that I've seen in my lifetime.
It is clear that money in politics, money as speech and corporate personhood are large issues that demand lots of thought and definitive action.  The ACLU would support a slate of legislation to address these issues, even as it continues to support Citizens United:
…the ACLU supports a comprehensive and meaningful system of public financing that would help create a level playing field for every qualified candidate. We support carefully drawn disclosure rules. We support reasonable limits on campaign contributions and we support stricter enforcement of existing bans on coordination between candidates and super PACs.
Perhaps these concerns can be addressed in the way that the ACLU would like, but even the ACLU sees the prospects of real reform as being rather dim. In the very next paragraph the group opines that,
Some argue that campaign finance laws can be surgically drafted to protect legitimate political speech while restricting speech that leads to undue influence by wealthy special interests. Experience over the last 40 years has taught us that money always finds an outlet, and the endless search for loopholes simply creates the next target for new regulation. It also contributes to cynicism about our political process.
I would suggest that the cynicism is all the ACLU's. Under their formulation, money is not just speech, money is power, and it will always find a way to corrupt our political system. Anything we do to change this system, the ACLU seems to say, can only potentially make things worse. Such an outlook is the epitome of cynicism.
RI Move to Amend is hopeful in that particular way Rhode Island embodies Hope, and emblazons this word on our state flag. Our state was born out of Hope and has stood up to an enormously powerful enemy with near infinite money and power before. On the issue of corporate personhood Rhode Island can show the way just as we did 241 years ago when the HMS Gaspee burned.
The fight against corporate personhood is the ultimate civil rights battle. With this legislation Rhode Island can once again strike the first blow for freedom and ignite a revolution that can bring an end to the specter of corporate oligarchy.
Rhode Islanders move to end Citizens United

,