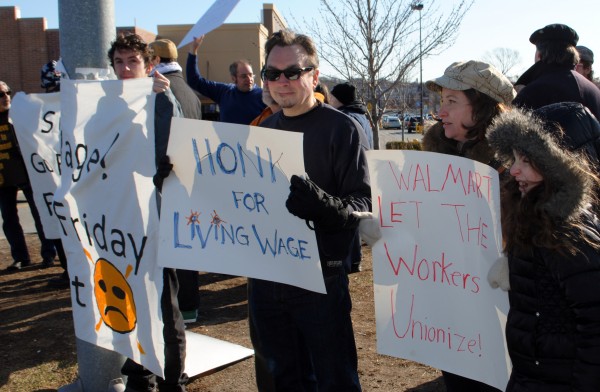 Members of Occupy Providence, supported by the International Union of Painters and Allied Trades, along with representatives from a wide range of progressive groups such as DARE, the Progressive Democrats of Rhode Island and others, gathered at the entrance to the Walmart on 51 Silver Spring St in Providence to demand living wages for workers and to encourage customers to shop locally. The protest was held in consort with 1,500 similar protests across the United States.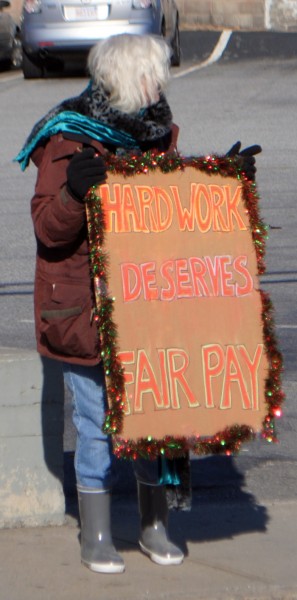 Over 800,000 Walmart "associates" work for wages that keep them well below the poverty line. Walmart, like many other national retail and fast food corporations, encourages their employees to make up their wage gap by applying for public assistance, meaning that taxpayers to help subsidize these corporations through SNAP and other government assistance programs. The money Walmart saves in underpaying their employees is used, as part of a vicious cycle, to directly lobby Congress to pass laws that benefit Walmart, at the expense of everyone else.
Walmart made $17 billion in profit last year, but it is estimated that each 300-employee Walmart superstore coasts taxpayers about $1,000,000 in public assistance programs. With 4,135 stores in the United States, and more opening seemingly every week, well, you do the math.
What is clear is that Walmart could more than afford to pay it's employees a living wage, not raise prices by so much as a penny and still make billions in profits.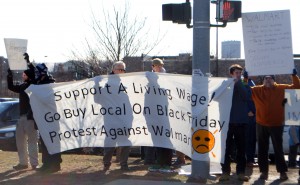 In addition to advocating for fair wages, the protesters also wanted to remind shoppers that shopping locally, at small businesses, is better for our local economy. Occupy Providence calls this a Solidarity Economy, and the concept is simple: "By refusing to shop at Walmart and shopping locally, Rhode Islanders' money can stay here in Rhode Island, growing our local economy with better jobs that can help feed and support Rhode Island families."
Absent from today's protest were any current Walmart employees. Given that current employee protesters across the country may face harassment and arrest, never mind the prospect of losing out on wages, desirable shifts or even their jobs, this is not surprising. One man, a Rhode Island College student and former Walmart employee, did arrive at the protest. Not only did he agree with all the goals of the protesters, he assured those in attendance that every Walmart employee he knows feels the same way.
The employees at Walmart know they are getting a raw deal, and if they had options, they would take them. Unfortunately, the game is rigged against them, and its up to all of us to change the rules.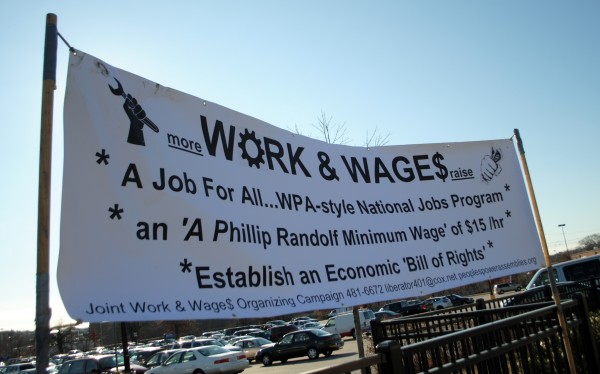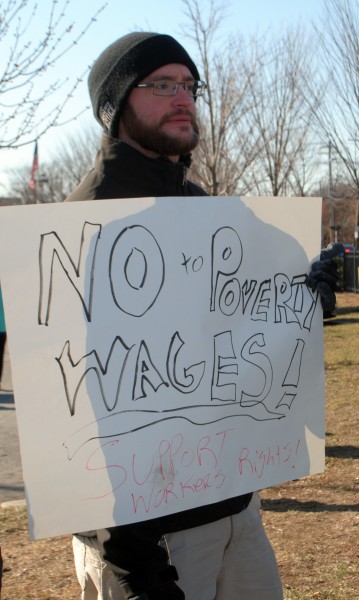 Rhode Islanders stand up, say no to Walmart

,