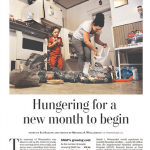 The most important news story Rhode Islanders can read this week is the front page of today's Providence Journal. "The Face of Food Stamps Nearly 1 out of 5 in R.I. Depends on the Program," reads the headline. It's a sort of follow-up to the Washington Post's recent stunning Sunday front-page examination of Woonsocket, where one in three people depend on the SNAP program.
What these stories depict – in human terms – is that there is a huge chunk of our state that isn't making it on their own. Whether you believe this is because our government and our economy favor the rich over the poor or the poor over the rich is really inconsequential. I think we can all agree this is really bad. And not just for our economy.
Yesterday afternoon I went to a press event at the State House calling attention to the rising rate of homelessness in Rhode Island, another critical issue for Rhode Island's economic and social well being and George Nee made a point that I don't think gets nearly enough attention here in Rhode Island.
Rhode Island's Economy: A Moral Failure

,