As a brutal revolution rages in Syria, the ancient city of Aleppo is the most deadly front in his civil-war and likely the most dangerous place in the world.
On Sunday, 16 people were reportedly killed when the government fired a missile at an apartment building (video here), and 79 executed bodies were pulled from a river there last week. The AP reports a former member of parliament and his family were killed by what the state news agency called "terrorists."
In Saturday's New York Times, under an Aleppo dateline, C.J. Chivers writes, "While Western governments have long worried that its self-declared leaders, many of whom operate from Turkey, cannot jell into a coherent movement with unifying leaders, the fighting across the country has been producing a crop of field commanders who stand to assume just these roles."
But meanwhile, just an hour to the north of Aleppo, Josie Shagwert of Providence was in Gaziantep, Turkey, helping to ensure this doesn't happen. She's part of a grassroots effort to train non-violent Syrian activists how to implement a fair democracy after the Assad regime falls.
"I don't think anyone knows what will happen after the regime falls," she told me on Friday. "But everyone is fairly certain the regime will fall. It's a horrible situation and we don't know what will happen, but at some point we are going to have to rebuild."
For the next five weeks, Shagwert will be working in Gaziantep with the Center for a Civil Society and Democracy in Syria. On Friday, as there was a suicide bombing at an American embassy in Ankura, Turkey, Shagwert was a mere five hours away helping with with a workshop for 25 Syrians from between the ages of 30 and 60 who traveled across the border to learn about transitional justice.
"Humanitarian relief work is really important, but CCSDS made a decision to focus on what is the future and what will the transition be like," she said. "Believing in democracy is a lot easier than practicing it. We're helping people unlearn the practices of an oppressive regime."
Shagwert, who was raised in Providence and still lives in the Capital City, is well-versed in grassroots organizing. She recently left a job as the director of Fuerza Laboral/ Power of Workers, an "organization of immigrants and low-income workers who organize to end exploitation in the workplace" in Central Falls, according to its Facebook page.
She told me she has an "obsessive passion for democracy movements and resistance to authoritarianism in whatever form that takes."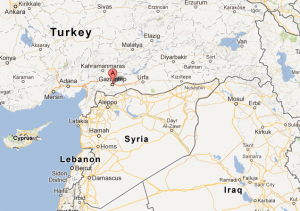 She's no stranger to Syria, either. She lived in Damscus for about 6 months in 2010, and left just a month before uprisings in Tunisia and Egypt and, soon thereafter, in Syria, too. Her grandparents emigrated from Syria in the 1920's to Rhode Island, and Shagwert grew up listening to them speak Arabic with their neighbors.
But she never understood the language until taking a class at a local church in Worcester, Mass. While studying there, she befriended a Syrian woman whose sister works with CCSDS. After Shagwert left her job with Fuerza Laboral, she began to plan her trip to Turkey to help.
"There's so much focus on sectarianism and no one is really consulting with grassroots Syria," she said. "We're helping civil society activists. There are still people practicing non violence in Syria, which is incredibly brave in the face of so much violence and oppression."
Shagwert will file dispatches with RI Future on her efforts and experiences in Gaziantep with CCSDS.