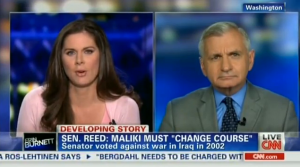 As President Obama prepares to deploy some 300 "military advisers" to Iraq in hopes of quelling the Sunni-led violence there, Rhode Island's congressional delegation is mixed on the move.
Senator Jack Reed and Congressman Jim Langevin said they support the president's decision. Senator Sheldon Whitehouse said he will "cautiously support" the president's decision. Congressman David Cicilline, on the other hand, said he would "continue to urge the Obama Administration to proceed cautiously."
Each offered a detailed statement to RI Future about the escalating strife in Iraq. Assuming the progressive position is opposing war and violence, here are their statements in order of how opposed they seemed to me based on their statements alone:
Congressman David Cicilline:
I am very concerned about the implications of any new U.S. military engagement in Iraq and strongly oppose sending American combat forces to this country.

The resolution of the current crisis in Iraq is ultimately the obligation of the Iraqi people. Their leaders have the responsibility to establish a pluralistic and inclusive government that will provide stability in Iraq. America has spent more than $1.7 trillion and sacrificed 4,486 American lives in this terrible war.  After nearly a decade of war in Iraq, Rhode Islanders and most Americans think it's time to focus on nation building right here in America.  I will continue to closely monitor this situation and continue to urge the Obama Administration to proceed cautiously.
Senator Sheldon Whitehouse:
I will cautiously support the Administration's efforts to help Iraqis regain control of their territory. This insurgency could become a real threat to our interests and we need to find ways to support the Iraqis who seek a peaceful democracy.  But that should not mean sending American troops into combat.  The Iraqi government needs to include all its citizens – not just the Shiite majority – in their democracy if they wish it to last.
Congressman Jim Langevin:
The violence in Iraq is very disturbing, and it is something we must monitor closely. Like the President, I am opposed to sending any new combat troops into the area, but I respect and agree with his decision to provide additional security to the United States embassy in Baghdad and Special Operations advisors to better assess the situation on the ground. Going forward, we must continue to explore all of our options as the situation develops. However, U.S. actions must not be in any way a substitute for meaningful action on the part of the Iraqi government to mend the rifts between Sunni, Shi'a, and Kurdish leaders.
Senator Jack Reed:
Iraq represents a very difficult situation.  The U.S. needs to be vigilant when it comes to ISIS, which is so ruthless that even Al Qaeda disavows it, and we obviously need to protect our diplomatic personnel and other assets.  But the responsibility to maintain the security and stability of Iraq belongs to the Iraqi government.  We can't be their air force and U.S. combat troops are not the solution.  Iraqi Prime Minister Nouri al-Maliki has so far managed to politicize Iraq's military and militarize its politics, a dangerous approach that will only breed more instability.  To even begin to solve this conflict, Maliki must make serious political reforms to build an inclusive and stable Iraq.  This country's future must be decided by every segment of its society, not just by certain groups, and certainly not by the United States.
Reed also spoke with CNN's Erin Burnett Wednesday about the issue.