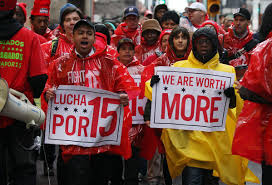 The movement to organize fast food workers for better wages and working conditions comes to Rhode Island today as employees will hold an action at the Wendy's at 771 Warwick Ave in Warwick.
"We have to do without a lot," said Jo-Ann Gesterling, who has been working at the Wendy's in Warwick for 5 years, and only makes $8.20 an hour. "Some people I'm working with have trouble buying food and need to rely on food stamps. They are having trouble finding a place to live."
"And we've got their backs,"  according to a Jobs With Justice email. "We need to stop sending Rhode Island dollars out of state to multinational corporations that pay workers poverty wages."
The protest today in Warwick is part of a nation-wide effort that kicked into high gear this August to fight for fast food employees' economic security. While fast food workers typically earn near-minimum wage. But across the country employees are demanding $15 per hour by walking out of work.
"Most of the workers at fast food restaurants in Rhode Island are adults and make around $8 an hour, which will be the new minimum wage in 2014," the Jobs With Justice email said. "We need to get the economy moving again, and that starts with low-wage service jobs. An adult with one child needs to make $20.64 an hour working full time in the Warwick area just to afford the basics, according to a model developed by a professor at MIT. Because many of these workers are forced on to public assistance, money is flowing out of Rhode Island to increase the billions in profits that multinational corporations like Wendy's, Burger King, and McDonald's enjoy."
RI fast food workers fight for $15

,