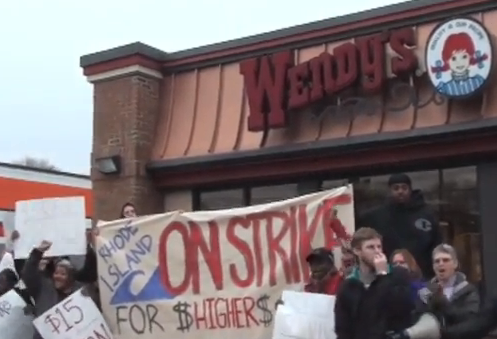 Workers from several Rhode Island fast food restaurants are striking tomorrow in the most recent direct actions in the fight for a $15 and hour, according to a press release from Jobs With Justice.
"Fast-food workers in  Central Falls, Warwick, Providence and Pawtucket will walk off their jobs," according to the media advisory. "They are expected to strike at Providence major fast-food restaurants, including Dunkin Donuts, Wendy's and KFC.  Clergy, elected officials, and community supporters will join fast-food workers on the strike lines."
Affected businesses include a Wendy's, McDonalds, KFC (formerly known as Kentucky Fried Chicken) and Dunkin Donuts.
This is the fourth such direct action in Rhode Island that began at the Wendy's in Warwick in December (watch video of that action here). It will be the second time workers have actually gone on strike, or not reported to work as a protest against the emloyment conditions.
The effort is part of national campaign, led by the SEIU, to raise the minimum wage in the fast food industry to $15 an hour and the right to form a union. Across the nation, workers will be striking at more than 150 fast food establishments, according to the release.
Public protests will be held at a Dunkin Donuts on Broad Street in Central Falls at 6 am Thursday morning and at noon at the Wendy's in Warwick.
Here's some background on the Fight for $15 movement from the Jobs With Justice press release:
A campaign that started in New York City in November 2012, with 200 fast-food workers walking off their jobs demanding $15 and the right to form a union without retaliation, has since spread to more than 150 cities in every region of the country, including the South—and now around the world.  Last December workers in Warwick and Providence joined the movement with a one-day strike.  Momentum continues to grow throughout Rhode Island to include workers at restaurants in Central Falls and Pawtucket.  The growing fight for $15 has been credited with elevating the debate around inequality in the U.S. When Seattle's mayor proposed a $15 minimum wage earlier this month, Businessweek said he was "adopting the rallying cry of fast-food workers."

As it spreads, the movement is challenging fast-food companies' outdated notion that their workers are teenagers looking for pocket change. Today's workers are mothers and fathers struggling to raise children on wages that are too low. And they're showing the industry that if it doesn't raise pay, it will continue to be at the center of the national debate on what's wrong with our economy.

Earlier this year, workers in three states filed class-action suits against McDonald's alleging widespread and systematic wage theft. And in a filing with the Securities and Exchange Commission, McDonald's said worker protests might force it to raise wages this year. With shareholder meeting season upon us, and a recent report showing the industry has by far the largest disparity between worker and CEO pay, scrutiny on fast-food companies is bound to intensify. USA Today called the growing worker movement, "the issue that just won't go away" for the fast-food industry.