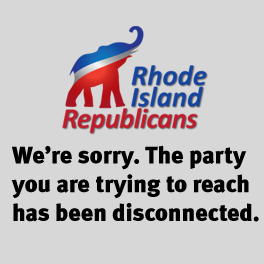 The Rhode Island GOP's new Getting to 25 agenda will likely lead them nowhere with voters. By clinging to their antiquated world views, they have isolated themselves from Rhode Island's cultural mainstream, which has moved to a place they don't understand.
The Getting to 25 press release spells it out in plain language. According to House Minority Leader Brian Newberry, "…on the list of good things, we rank at the bottom…" Leaving aside our unenviable unemployment rate, which all Rhode Islanders want to see improve, Mr. Newberry's definition of "good things" shows how badly disconnected he and his party have become.
According to the RI GOP, good things consist entirely of a pro-business environment (laden as that catchphrase is with anti-environmental, anti-union connotations), low taxes and low taxes. Yes, they list "tax climate" and "per capita tax burden" as separate items.
Meanwhile, the rest of Rhode Island has a very different definition of good things, and it's almost entirely cultural in nature. Rhode Island, especially the Providence metro area, excels in many cultural factors that young, mobile people find especially compelling.
Modern economic development across the country focuses on attracting and retaining young talent, and young talent cares very little about low taxes. A 2011 Freakonomics review of a Brookings study listed "…affordable housing, a low cost of living, a transportation and bicycle infrastructure, an arts culture, and of course, the prospect of being around other young people" as critical aspects of cities that attract young people. Other factors include ethnic and racial diversity and the cultural dynamic that it drives like the number and diversity of restaurants. Awareness of and action on environmental and social justice issues also ranks high. Finally, young people often seek a place where they can make a positive impact on their community.
Rhode Island ranks well in all these categories, as this story today from the notoriously GOP and anti-everything Providence Business News points out. (I presume…the story is behind their paywall, so I'll have to take the headline at face value.) I and most people in my social circle know many, many people who consciously chose to move to Providence for just these reasons. In fact, many people in my social circle ARE these people. I wonder how many such people minority leader Newberry knows?
Perhaps no single thing brings together the positive impact of the now-and-future Rhode Island like the wildly successful Wintertime Farmers Market at Hope Artiste Village. (The project manager for that enormous real estate development, by the way, is a transplant now hooked on Rhode Island and a budding community leader.)
The farmers market has been so successful that it expanded this year to use both sides of converted mill. It also opened a Wednesday evening session. The number of both vendors and customers has continued to grow over the years as has the range of foods, products and services available there. It is, in a word, packed.
The point is that RI GOP, in their insistence that all is catastrophe, fails to see that a large portion of the state's population feels otherwise. Until they can connect with dynamic core of modern Rhode Island, they will continue to languish at the polls.
RI GOP's fatal disconnect

,