A meeting of the Rhode Island Hospitality Association (RIHA) at the restaurant Not Your Average Joe's in Warwick means that RIHA President Bob Bacon, owner of the Gregg's Restaurant chain, can no longer claim that, "Thirty-five years plus in the industry, I've never encountered [tip and wage theft]."
Not Your Average Joe's in Massachusetts was found to have failed to pay employees hundreds of thousands of dollars across 15 restaurants in 2012 by the United States Department of  Labor. Not Your Average Joe's owed workers over half a million dollars.
Bacon, speaking before the RI House Committee on Labor, added, "I'm not naive enough to say that it doesn't exist. I can tell you that it doesn't exist on the level that's being portrayed here tonight. I can say that without any reservation."
This is belied by a statement from George A. Rioux, the Labor Department's district director in Boston, whose investigation found such theft and fraud at 34 Boston area restaurants. "We were surprised by the results," said Rioux, "This is substantial. We're not getting the change in behavior we want. Companies are paying back wages and agreeing to compliance, and it's not enough to finally wake up and see that we're serious."
Bacon was speaking against House Bill 5363 that, if passed, would make it easier for workers to take action to recover money lost through wage theft, a multibillion dollar crime in the United States. Bacon suggested that the restaurant industry was fully capable of policing themselves.
…if one of these people that says they have all these problems, if they want to come to us, I've offered for three years in a row to do the following: First, we'll keep the employees name confidential. Second, we'll meet with the employer and we'll bring the complaint to their attention, third, we'll work to educate that employer on the U.S. Department of Labor's rules and regulations on the matter, and fourth, probably most important, in the event that an employer chooses to stay out of compliance with an issue, we would assist the employee in going through the appropriate channels to get the situation rectified."
It is the height of absurdity to believe that the same organization that feels it is proper to hold meetings in restaurants that have been found to have engaged in wage theft can be counted on to deal fairly with employees claiming wage theft or other forms of worker abuse.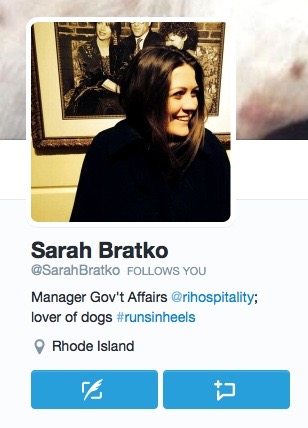 RIHA communications director Monika Nair did not respond to an inquiry regarding the purpose of the meeting at Not Your Average Joe's in Warwick, but the timing of the event, ahead of a final, two week flurry of legislative activity in the General Assembly, seems more than coincidental.
Shortly after sending my inquiry to Nair, Sarah Bratko, manager of governmental affairs for RIHA, started following me on Twitter. A second inquiry to Bratko has also gone unanswered as of this writing.
At the same time RIHA is meeting, ROC United RI and the One Fair Wage Coalition are having an Industry Night from 6-9pm at E&O Tap, 289 Knight St in Providence.
RI Hospitality Assoc meets in chain restaurant guilty of $500,000 in wage theft

,