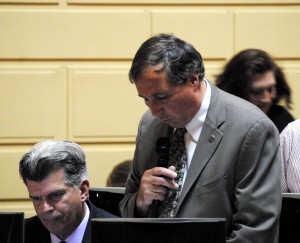 Of great concern last Thursday night for some members of the Rhode Island House of Representatives was the potential of there being something like 39 different minimum wage laws. Again and again, representatives warned of economic disaster if the City of Providence passed a law mandating $15 an hour for hotel workers; and so in response they took away the ability of all cities and towns to pass minimum wage ordinances. It was as naked a revocation of power as has ever been seen in Rhode Island.
Some argued that there shouldn't be different wages for different jobs. But the budget contained no action to close the tipped wage loophole in Rhode Island. In the minds of those voting for the article, it's wrong to raise wages for a select few above the state minimum wage, but it's perfectly fine to pay people less than the state minimum wage.
More to the point, in their repeated invocations of "39 different…" the state's representatives continually argued against the very existence of the cities and towns that they supposedly represent. Why have "39 different" permitting processes? Why have "39 different" different zoning systems and approval processes? Why have "39 different" school systems (yes, I know in reality there are less)? The possibility of confusing contradictions between jurisdictions never seemed to bother the House of Representatives at any point prior to this moment. As far as I know, not a single candidate ran against the complex maze of towns and cities we have.
Indeed, why even bother having the charade of "39 different" governments, considering how detrimental that could be to business? That's quite a lot of officials to lobby and donate to. Rhode Island could be far more competitive if they only had to donate to the leadership of, say, 113 people divided into two chambers. Although it might cause damage to Rhode Island's lobbyist businesses if there was a sudden reduction in the number of government officials to wine and dine.
Now, in practice, there are a number of economically fine counties about the size of Rhode Island in terms of geography and population that have dozens of governments more than Rhode Island. It ultimately goes to show that it's not the amount of governments that matter, but rather the quality of them. And the quality of Rhode Island's state government is so low that should anyone seriously suggest moving to a city-state style of government, with the General Assembly in charge of everything, there'd probably be a mass revolt.
That thought should've given pause to lawmakers on Thursday night, and a week before that when Rep. Raymond Gallison added the provision to the budget. While the Assembly cries constantly about not wanting to meddle in the affairs of business, meddling in the affairs of its people appears entirely acceptable.