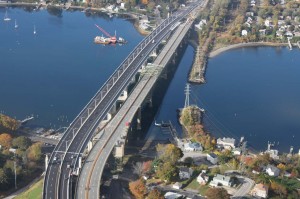 There's a new plan out to replace the Sakonnet River Bridge Tolls.  For the next six years, discretionary spending will be slashed in every department by 0.25%, until the total cut is 1.5%.  Funneled into a transportation infrastructure trust fund, those dollars will hopefully eliminate the need for tolls on the Sakonnet River Bridge.
If this sounds familiar, it's because it is.  Known as a "sequester," this tactic of across-the-board cuts was controversially implemented at the federal level as a Democratic concession in the 2011 debt ceiling standoff.
Given that I've staked out a pretty solid position on the Democratic side of public policy debates, you might be surprised to hear that I'm not calling on legislators to vote down this bill.  That's because I consider tolls a really bad idea.  They're extremely regressive, hitting the lower middle class especially hard.  Although it's difficult to properly assess, tolls do economic damage as well–possibly almost as much as sequesters.  So I can't blame a legislator who votes for this bill.
But we should not forget the pain these austerity policies are causing our state.  Few states have caught austerity fever as aggressively as Rhode Island.  Slashing jobs to the point where we have the second fewest per capita public sector employees in the country, Rhode Island has gone all in on the budget cut strategy.  (And somehow, we still found the money to give the wealthy big tax cuts.)
Part of the goal of sequesters is to spread the pain so thin no that one will be too upset.  Instead of directly slashing one program, the state will be asking every department to squeeze things just a little bit harder, cutting a few jobs in each department instead of concentrating the cuts in one specific area.  The hope is that this will reduce the political opposition.  As Rep. Jay Edwards, chief bill sponsor, put it on Newsmakers:
If a department can't cut their own budget by a quarter percent every year and look forward to it, then they are not doing a good enough job.
This is the kind of thinking we must avoid.  It probably is true that distributing the cuts like this makes the damage less visible, but it doesn't make it any less real.  This sequester will cost our state jobs.  And of course it's much better policy to direct the cuts towards less important programs than to take this meat-axe approach.
Michael Lewis, the Director of the Rhode Island Department of Transportation, expressed similar concerns.  Explaining that his "concern with the plan is that it doesn't contain new revenue,"  Director Lewis cautioned that, "somewhere in the state budget, something is going to suffer," and we "have to think about what kind of impact that's going to have on the overall state budget."  He's right.  We can't forget the pain these cuts will inflict.
What makes this story so tragic is that there is a really easy free lunch solution to our infrastructure crisis.  In America, states traditionally finance infrastructure with cheap general obligation bonds.  Underfunding infrastructure maintenance can often lead to a higher effective interest rate than you would pay on bonds, since replacing unmaintained bridges is much more expensive than just maintaining them properly.  That's exactly what happened with the old Sakonnet River Bridge.
Given record low interest rates, now would be the fiscally responsible time to take out the infrastructure bonds we know we're going to have to do, and with the Fed already tightening, this next bonding cycle may well be our last chance to access rock-bottom interest rates.  Curiously, our state government has spurned this incredible opportunity.  There were no transportation bonds on the 2012 ballot.  When we take out those inevitable bonds, we'll be paying much higher rates, and our roads and bridges will have continued to crumble, bringing the bill even higher than it would be today.  Plus, we will have missed out on all the jobs we could have created.
RI lawmakers propose sequester to replace Sakonnet tolls

,