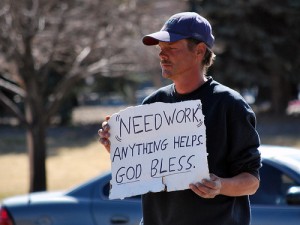 GoLocalProv reported on Monday that Rhode Island owes the federal government $200 million for unemployment benefits.  When the Great Recession hit, there wasn't enough money in the state's unemployment trust fund and we had to borrow to make up the difference.
But about a third of the way through the article a subhead asks, "Is RI too generous?" and goes on to refer to a study on the website 24/7 Wall St. which labels Rhode Island as the "most generous" state in the country when it comes to handing out certain benefits.
GoLocalProv referenced the same study on December 25.
The implication is that Rhode Island has to borrow money from the feds because the state is doling out extravagant unemployment checks.  But the reporting in both the 24/7 Wall Street piece and the GoLocalProv posts that cite is severely lacking in context.
While it may be true that Rhode Island is the second highest in the country for unemployment payments as a percentage of weekly wages, this is just one way to measure the "generosity" of UI, and nowhere does the article m­­­ention how these payments compare to the cost of living in our state.
According to the Economic Progress Institute's 2012 Standard of Need, a single adult in Rhode Island living solely on the average unemployment benefit of $381.89 weekly would come up $4945.72 short for their annual living expenses.  A single parent receiving the same benefit while trying to care for two kids would be short $37681.72.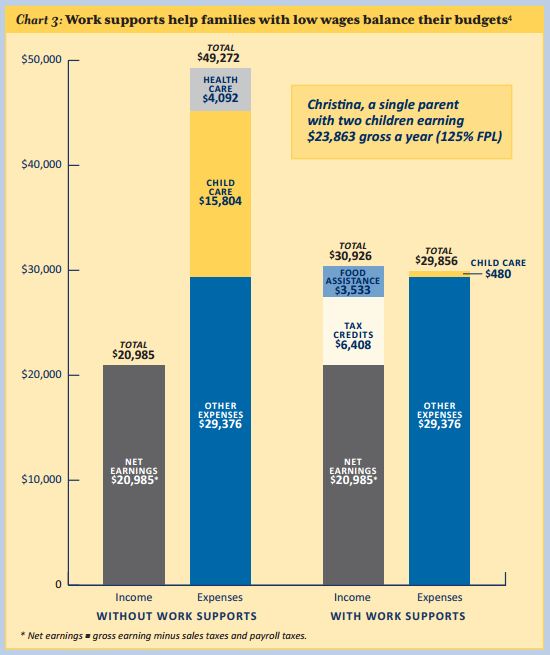 Granted, that single parent might be eligible for other forms of assistance to help close that gap.  But what if we use the example of "Christina" on page 6 of the EPI's report (see graph at right)—say she gets laid off, and let's assume that like 24/7 Wall St. says, she receives 43.4% of her wages in unemployment payments.  That comes out to $10356.54 annually—and while we hope Christina isn't out of work the entire year, the average length of unemployment is still around 40 weeks, so that's not too unlikely of a scenario.
You can see how it becomes impossible for Christina to make ends meet when faced with a long-term unemployment scenario, even with our state's "generous" unemployment payments.  And this hypothetical situation is a tragic reality for many unemployed workers in Rhode Island—folks I meet week in and week out as part of the Where's the Work project.
Rhode Island having to borrow $200m from the Feds to cover unemployment payments has nothing to do with those payments being "over-generous" (which they clearly are not) and everything to do with a failure on the part of our leaders to plan appropriately for—and respond adequately to—this  unemployment crisis.