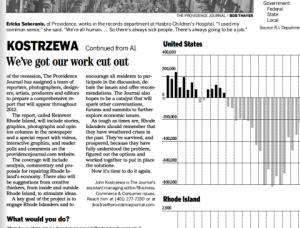 The Providence Journal kicked off a great new series on Sunday called Reinvent RI in which the paper does a great job analyzing and identifying the problems with our economy. The Projo says the state's downturn is a result of a slumping housing economy coupled with a transition away from manufacturing – not high taxes or union dominance as some would have you believe.
Kate Bramson details five priorities for Rhode Island, including taking better advantage of our ports, keeping our college graduates here in state, retraining our workforce and taking advantage of what Allen Tear of Betaspring called our "unfair lifestyle advantage, an unfair cool advantage."
Of course, Rhode Island's business climate was also cited as a priority, but Bramson keeps great perspective writing that RI must, "reach out to help traditional small companies and the innovative start-ups that are developing new technologies and will be future job creators."
— Meanwhile, over on the editorial page, Darth Flanders penned an op/ed with Gary Sasse extolling the benefits of municipal bankruptcy. It read as if Flanders and Sasse were selling the idea of municipal receivers to mayors and managers across the state, even though they led off by saying, "If the reader takes one thing from this article, it is that only after exhausting all other options should financially troubled Rhode Island municipalities" consider bankruptcy. Of course the next sentence started with a big giant, "But…"
— In other financial news from this weekend, Ted Nesi made a great observation about Rhode Island's economy. Namely that public sector unions aren't nearly as powerful as people think, and Wall Street is much more so.
"For all the talk about labor unions' power in Rhode Island, their influence over political leaders is still trumped by the might of another formidable institution: Wall Street. When Rhode Island's leaders are faced with a choice between investors and public-sector union members, they consistently side with the former. The bondholders law, which explicitly protects creditors over pensioners, is one example of that; the suspension of democracy in Central Falls is another."
— Economic inequality has become such the debate dejour that they are even talking about it in East Greenwich, home of Rhode Island's largest concentration of the 1%. Lisa Sussman wrote a great piece for EG Patch about why this upscale suburban enclave really shouldn't complain about Chafee's municipal plan. Read the comments to see me get beat up for sticking my nose into the fray!
— Given all this gloomy news about the state of the state, what are we to do about it? Well, Occupy URI will be protesting at the Board of Governors for Higher Education meeting today at 5:30 at the URI Bay Campus "to object to the unrelenting diversion of funds from public education in Rhode Island, and to bring to the Board's attention grave concerns regarding the constitutionality of those diversions," according to a press release, which also says:
"In addition to being patently unconstitutional, the diversion of funds from education is morally reprehensible. Nevertheless, The RI Board of Governors, continuing a trend spanning decades, approved an explosive 9.5% tuition increase for the University of Rhode Island for the 2012-13 academic term. This has led to an unconscionable burden on those seeking the opportunities guaranteed to them in the RI Constitution."