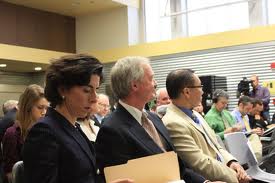 After endorsing Clay Pell in the primary, the Rhode Island Progressive Democrats decided not to endorse a gubernatorial candidate in the general election.
"While our concerns with (Republican Allan) Fung are far more severe," according to a press release from RIPDA, "we see (Democrat Gina) Raimondo as a Wall Street Democrat with unacceptably conservative positions on economic issues."
Sam Bell, director of RIPDA, said those positions include Raimondo not supporting repealing tax cuts to the rich and pension reform. He also found fault with Raimondo's plan to fund new school construction by diverting sales tax revenue rather than bonding and her manufacturing plan, which he said will "allow corporations to control curriculum at CCRI."
The left-leaning group only endorsed two candidates, both Democrats, in the general election: Nellie Gorbea, who is running for secretary of state against Republican John Carlevale, and Seth Magaziner, who is running for general treasurer against independent Ernie Almonte.
In their press release, RIPDA had more to say about whom they didn't support, than who they did. decided not to endorse in the lt. governor's race and the attorney general's race.
For Attorney General, progressives face a difficult choice. We cannot endorse either candidate. Peter Kilmartin has a weak record on core civil liberties issues like racial profiling and consumer protection, and Dawson Hodgson is more liberal on issues of individual rights. As a moderate, pro-choice Republican with a voting record well to the left of the median state Senator, Hodgson is the sort of Republican that liberals can find appealing. However, Hodgson has expressed troubling views on guns, workers' rights, and economic policy. We also have concerns with Kilmartin's record on access to public records and open government.

Having served as a top lieutenant to former House Speaker Bill Murphy, Kilmartin has close personal and political ties to the conservative machine politicians who run our state so poorly. Hodgson, however, holds no love for Rhode Island's right-wing Democratic establishment. Given the Attorney General's ability to prosecute corruption, this is a vital concern.
And here's what RIPDA said about the lt. governor's race.
In the Lieutenant Governor's race, we have also opted not to endorse. While Catherine Taylor is a moderate Republican, we believe she is superior to the Democratic nominee, Dan McKee. Although we certainly cannot endorse her, we do believe that Catherine is the better choice for progressives, despite her party affiliation.