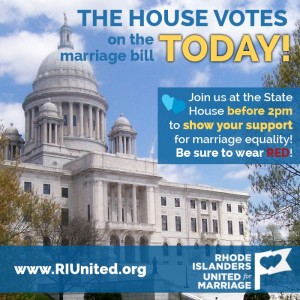 The Rhode Island House of Representatives is ready to make history today by voting on – and probably passing – a bill that would lift the local segregation against same sex marriage. Advocates are asking people to arrive at the State House by 2pm for a rally "Be sure to wear red," suggests a photo circulating around Facebook made by Rhode Islanders United for Marriage.
"The world is watching #RI," Rev. Gene Dyszlewski tweeted this morning about a story in today's New York Times story about Ocean State's struggle to become the last state in New England to legalize gay marriage.
According to the Times' story:
If the measure passes here, New England would become the first solid block of states in the country to allow gay marriage, underscoring the region's reputation as the nation's most liberal, and perhaps its least religious. A Gallup surveyfound that all six New England states rank among the bottom 10 states for weekly church attendance.

And yet Rhode Island has seemed out of step with the rest of New England in not embracing gay marriage sooner. It was only on Tuesday that the House Judiciary Committee approved a same-sex marriage bill, albeit unanimously. It had come up in committee once before, in 2001, but only one person supported it.

The voting here comes almost a decade after same-sex marriage became legal in neighboring Massachusetts.