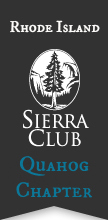 The Rhode Island chapter of the Sierra Club has released the endorsement of the following candidates for state representative. As part of the oldest environmental group in the country, our selection committee based this on a questionnaire we did with Clean Water Action which was sent to every candidate running. Also, for incumbents, the Environmental Council of Rhode Islands legislative scorecard was used. Additionally, as is the policy of Sierra Club nationally, special weight was given to candidates who come from in activist background, particularly those who have worked with us on campaigns in the past.
House
Edie Ajello – H. 1 Providence
Chris Blazejewski – H.2 Providence
Aaron Regunberg – H. 4 Providence
Maria Cimini- H. 7 Providence
John Lombardi – H. 8 Providence
Grace Dias- H. 11 Providence
Art Handy – H. 18 Cranston
Dave Bennett H. 20 Warwick
Joe Solomon H. 22 Warwick
Scott Guthrie – H. 28 Coventry
Teresa Tanzi -H. 34 Narragansett/South Kingstown
Donna Walsh – H. 36 Charlestown/Westerly/SK/BI
Larry Valencia – H. 39 Richmond/Exeter/Hopkington
Jay O'Grady – H. 46 Lincoln/Pawtucket
Linda Finn – H. 72 Middletown/Portsmouth
Deb Ruggiero – H. 74 Jamestown
Lauren Carson – H. 75 Newport
Senate
Gayle Goldin- S.3 Providence
Doris De Los Santos – S. 7 Pawtucket
Adam Satchell – S. 9 West Warwick
William Conley- S. 18 East Prov/Pawtucket
Stephen Archambault – S. 22 Smithfield/N. Prov/Johnston
Margaux Morisseau – S. 21 Coventry/Foster/Scituate/W. Greenwich
Josh Miller – S. 28 Cranston
Cathie Cool Rumsey – S. 34 Charlestown, Exeter, Hopkinton, Richmond, W. Greenwich
Sue Sosnowski- S. 37 South Kingstown/Block Island
We thank every one who returned the surveys. We received a record number of responses and some of the decisions were difficult but everyone was considered carefully. There will be a second announcement of endorsements for the Governors, Lieutenant Governor and Treasured along with additional State Representative endorsements.
Congratulations to all those selected in this first round of endorsements and we will work with your campaigns and other endorsees to get you elected.