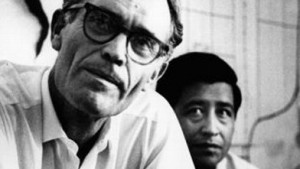 Google may be taking flack from the conservative blogoshpere for honoring Cesar Chavez on Easter, but no such criticism from this site for Rhode Island's congressional delegation's collective decision to support the man who mentored Chavez.
All four members of the delegation have signed onto letters asking President Obama to award Fred Ross Sr. a Presidential Medal of Freedom.
"For nearly half a century, Fred educated, agitated and inspired people of all races and backgrounds to overcome fear, despair and cynicism. He was a pioneer who fought for racial and economic justice," reads a letter that Congressman David Cicilline and Jim Langevin signed onto along with 60 other members of the House. Here's a copy of the letter Senators Reed and Whitehouse sent to the president.
Ross is best known for mentoring Cesar Chavez and Delores Huerta. But he's also a real-life connection between the "Grapes of Wrath" and the grape boycott by the United Farm Workers. In the 1930's, Ross ran the Arvin Migratory Labor Camp in Central California – the government-run unemployment camp made famous by Steinbeck's classic novel as the alternative to oppressive private sector camps where the Joad family and others suffered. Then, in the 1960's he was instrumental in helping Chavez and Huerta organize a nation-wide grape boycott that led to better working conditions for migrant farm laborers.
ABC News has a great profile on Ross and his legacy, with this photo gallery.