Poor people in Rhode Island pay almost twice as much a percentage of their incomes than do the wealthiest residents, according to a new report from the Institute on Taxation and Economic Policy.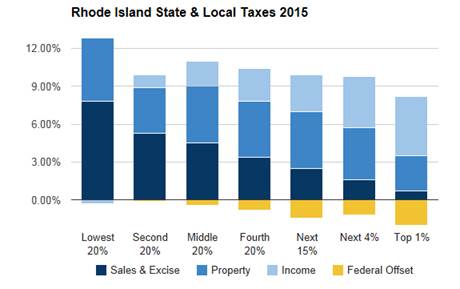 This disparity, while unjust, isn't abnormal. Rhode Island has the 23rd most unfair tax structure in America, according to the report. But only four states tax their poor worse than Rhode Island:
"This study underscores why Rhode Islanders who are struggling in our low-wage economy should be the number one priority for any tax relief efforts considered in the coming year" said Kate Brewster, executive director of the locally-based Economic Progress Institute.
EPI thinks the way to reverse this is to disastrous ranking is to increase the Earned Income Tax Credit, which she credited lawmakers with addressing last year as well.
"Making our state's Earned Income Tax Credit fully refundable last year was a first step towards making our tax structure fairer," said Brewster."  This year we hope to see the EITC increased to at least be on par with our neighboring states who allow working families to keep more of their paycheck,"  Brewster said in a release.
EPI has a one-pager on the benefits of increasing the EITC here. "The EITC is a short-term investment that can make a significant and lasting difference in the lives of working families. It reduces the income tax paid by low-wage working families, allowing them to keep more of their paycheck. It has been proven that EITC beneficiaries work more, earn more, and are less likely to need to rely on welfare."
Rhode Island has the third lowest Earned Income Tax Credit in New England and it is significantly lower than that of Massachusetts and Connecticut, as we reported in December: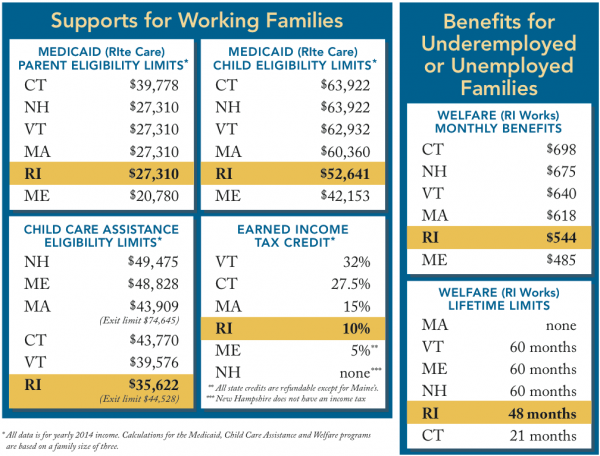 Paula McFarland, executive director of the RI Community Action Association, says when poor people get a refund, they put it right back into the economy. "We know that when a refund comes, families spend it right away at local supermarkets, retailers, and other businesses."