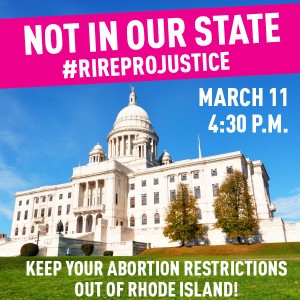 On few issues is Rhode Island's conservative streak more evident than with women's rights and reproductive justice. NARAL Pro Choice's 2013 report card gave the Ocean State a D+, along with Wyoming and North Carolina. Connecticut got an A and Massachusetts a B minus.
And things could get a lot worse for women here in Rhode Island thanks to what Planned Parenthood calls "five dangerous abortion restriction bills being heard together in the RI House Judiciary committee" this afternoon.
"We know these bills will do nothing to help empower Rhode Island women to plan their families nor help women prevent unintended pregnancies," according to a Facebook invite to rally against these proposals today, 4:30 at the State House.
But on the other hand, things could also get a lot better for reproductive justice in Rhode Island too as the same committee will hear five bills that would help RI resemble Connecticut and Massachusetts when it comes to women's rights rather than Wyoming and North Carolina.
"Dozens of organizations and the RI Coalition for Reproductive Justice aren't stopping by just fighting the bad bills," said Planned Parenthood's Paula Hodges in an email. "We're going to demand this legislature stand up for women."
The latter group of bills would expand programs and privacy for women having an abortion and the aforementioned suite of legislation would do the opposite. Here's a list of the bills being heard today. They span the entire political spectrum on abortion issues, but they are all sponsored by Democrats. Of the 30 signatures on the 12 different bills, there is only one Republican on the list.
An easy cheat sheet is if a bill has the names Corvese, MacBeth, Malik or McLoughlin it either slashes services or privacy provisions and if its got the names Ajello, Handy, Ferri, Tanzi or Valencia it helps women.
RI: the blue state that is very conservative on abortion issues

,