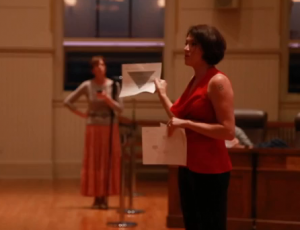 The state Department of Education has been a strong advocate against public debate about high stakes testing as a graduation requirement, but it hasn't been silent. Earlier this month Andrea Castaneda, chief of Accelerating School Performance for RIDE, spoke at a forum in Warwick earlier this month.
"I view this as our absolute responsibility," she said about being a part of the public debate Rhode Island is having largely without RIDE and the Board of Education over high stakes testing and using the NECAP as a graduation requirement. "This is a really important piece of public policy and I think it's a piece of public policy that well-informed, reasonable, thoughtful people disagree on."
This is a stark contrast to how Castaneda's boss, Deborah Gist, has parsed political debate concerning the NECAP test, who has said people should not encourage or participate in political actions related to high stakes testing and authored seemingly simple but patently false op/ed pieces in the Providence Journal.
The parents and educators who organized this forum are planning several more such forums in November. While this one focused on the negative ramifications high stake testing graduation requirements have on students with disabilities, future forums will include the Providence NAACP, church leaders and will focus more broadly on civil liberties. Castaneda, despite saying such public debates are RIDE's "absolute responsibility" to particpate in, has declined to participate in future forums. Forum organizers say Castaneda wants a say in how future meetings are structured.
Sorry, Andrea … I think RIDE lost the right to dictate the structure of the debate when it decided not to facilitate the public conversation. Watch Castanada address a group who held a forum at Warwick City Hall earlier this week below. See if you think her words are consistent with RIDE's actions: