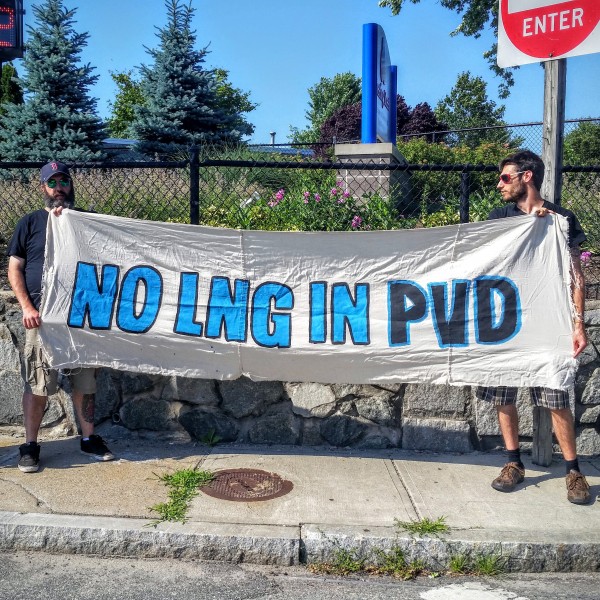 The No LNG in PVD Coalition (Coalition) is requesting that the Rhode Island Department of Environmental Management (RIDEM), "deny permits related to the Fields Point Liquefaction Project based on environmental justice concerns."
In August, community members successfully petitioned RIDEM to initiate a Public Involvement Plan (PIP) for the site, based on regulations under state law, which was approved on September 6, 2016. National Grid, says the Coalition, "has essentially ignored the request for a PIP, and then argued in a legal memorandum from law firm Hinkley Allen that PIP regulations do not apply since the liquefaction facility is regulated federally by FERC [Federal Energy Regulatory Commission] which pre-empts state and local laws."
The Coalition maintains that "permit applications to RIDEM under the Clean Air Act and Clean Water Act are required under this FERC-administered NEPA [National Environmental Policy Act] review process, and are exempted from federal preemption.  Therefore, in reviewing the Clean Water Act and Clean Air Act permit approvals for the Fields Point Liquefaction Project, RIDEM has full and delegated federal authority as a regulatory agency."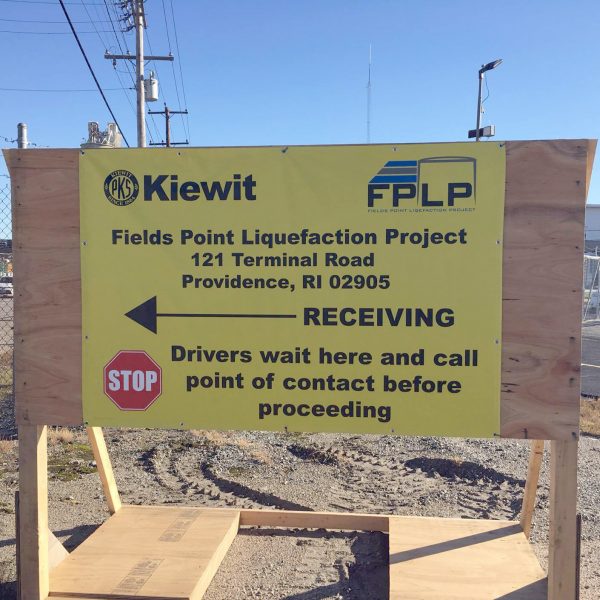 In the same Hinkley Allen memorandum, National Grid stated that "they are no longer planning to abide by plans to operate according to the Short Term Remedial Action Plans (STRAPs) issued by RIDEM and will instead operate under a 2012 Soil Management Plan (SMP) and will only take additional steps to manage soil and groundwater contamination if required by FERC.
On October 21 RIDEM declared that the 2012 Soil Management Plan "is not sufficient to regulate the activities on the site."
"At the same time, National Grid has been engaging in construction and soil excavation activities at the site and has told the public that we have no cause for concern and no justification for public involvement because the work is unrelated to the liquefaction facility," writes the Coalition, "FERC has not yet issued an environmental document or any certificates for the project and is not regulating current site activities, yet National Grid's contractor for the liquefaction project, Kiewit, is actively working at the site and erected a sign for the Fields Point Liquefaction Facility.  There is a concerning lack of clarity on which projects on the site are (directly or indirectly) related to the liquefaction facility, and which regulatory agency has authority.  There has been no documentation submitted to the FERC docket about the Public Involvement Plan request or National Grid's plans to no longer abide by STRAPs from RIDEM, as they had initially stated in their certificate application to FERC.  National Grid is making seemingly contradictory statements to FERC, RIDEM, and the public, all while continuing to conduct activities on the site and defy requests for public involvement or enhanced state regulatory oversight."
The letter, which can be read in full here, concludes:
"We respectfully but forcefully request that RIDEM follow its own 'Policy for Considering Environmental Justice in the Review of Investigation and Remediation of Contaminated Properties.'  This policy, available on the RIDEM website, outlines a series of steps which RIDEM should be – but is not currently – conducting.  This site and the proposed liquefaction project meet the definition, outlined in the EJ [Environmental Justice] Policy, of "sites with very significant community involvement needs." The attached documents [here and here] produced by the EPA's EJSCREEN tool shows that the communities impacted by the proposed liquefaction facility are already faced with numerous environmental justice concerns.  The required processes and activities laid out in RIDEM's EJ policy for contaminated properties are not being conducted and there has not been meaningful involvement in decision-making at any level. There is an urgent need for RIDEM to be proactive with community engagement, posted notices, information sharing, public meetings, technical assistance, and ensuring meaningful involvement of community participation in decision-making.
"It should also be noted that National Grid has repeatedly petitioned regulators in order to avoid public participation and downplay environmental justice concerns.  Repeated requests for public meetings and community involvement have been ignored, including a request by a unanimous resolution of the Providence City Council.  The attached EJLRI comment letter was submitted to the FERC docket on August 11th, protesting National Grid's request to waive public hearings and responding to the faulty environmental justice analysis contained in their application to FERC."
The letter was signed by the No LNG in PVD Coalition, representing dozens of organizations, businesses, churches, and numerous impacted residents including Public Involvement Plan petition signatories and the Environmental Justice League of Rhode Island, the FANG Collective, the Rhode Island Sierra Club, the American Friends Service Committee – South East New England, Representative Edith Ajello, Representative Joseph Almeida, Representative Chris Blazejewski, Representative Grace Diaz, Representative Aaron Regunberg, Representative Anastasia Williams and Senator Paul Jabour.
Check out the EJ League's Position Paper here.
RIDEM asked to deny National Grid permits for Fields Point Liquefaction Project

,