Friday Jan 24, 2013
North Kingstown, RI – Good morning, Ocean State Futurists. This is Bob Plain, editor and publisher of the RI Future blog podcasting to you from The Hideaway on the banks of the Mattatuxet River behind the Shady Lea Mill in North Kingstown, Rhode Island.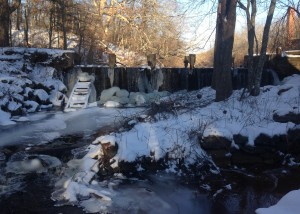 Later on in the show, we'll be checking in with we'll be checking in with Steve Brown of the ACLU on Waivergate, the latest fiasco with the NECAP graduation requirement. We'll also here from Rep. Dennis Canario, a legislator who represents Sakonnet and parts of Portsmouth, on why he is pushing a bill this session to label genetically modified foods.
Our show today is brought to you by Largess Forestry. Preservationists and licensed arborists, no one will care for your trees better than Matt Largess and his crew. If you've got a tree or a woodlot in need of some sprucing up, call Matt today for a free consultation at 849-9191 … or friend them on Facebook.
It is Thursday, January 24 and the unemployment rate is up, but so is our population. And, if you ask me, so is our collective psyche. I can just kinda feel it everywhere I go that Rhode Islanders are feeling better about the biggest little state in the union … And I give major credit to Linc Chafee, the Rhode Island Foundation and all the other folks who work tirelessly to focus on what's great about Rhode Island and pick us up by our bootstraps. Seriously, if we can break the inferiority complex that the Ocean State has long suffered from, we'll have done something a lot more important than simply created some wealth and maybe a couple jobs…
There were 400 more unemployed people in Rhode Island in December than the previous month bringing the total number to an almost eerily even 49,900, reports the Providence Journal this morning.  This has become our monthly box score and reporters, politicians and pundits comb through these monthly numbers the way I poured over NBA agit in the ProJo when I was a kid…
RIF Radio: ACLU's Steve Brown on NECAP waivers, Tiverton's Rep Canario on GMO labeling

,