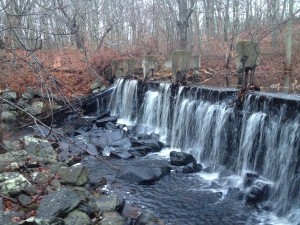 Monday Dec 2, 2013
North Kingstown, RI – Good morning, Ocean State. This is Bob Plain, editor and publisher of the RI Future blog podcasting to you from The Hideaway on the banks of the Mattatuxet River behind the Shady Lea Mill in North Kingstown, Rhode Island.
It's Monday, December 2nd … the first work day of the least productive month of the year. But don't worry, economy … while fewer people are producing goods and services more people are consuming them. December also almost always has the highest consumer spending of the year.

And speaking of the economy…
Politifact uses some political oxygen to debunk a pretty archane untruth about the minimum wage debate … put forth into the marketplace of ideas by a Facebook meme. It was something about how many times Congress increased its own salary in relation to how many times the minimum wage was raised … nothing too germane to either the economics or the morality of minimum wage politics, but it is an interesting reminder of where information comes from these days … the answer: everywhere and anywhere.
Here are some additional minimum wage claims that Gene Emery should fact check: only a third of minimum wage workers are teenagers, and three quarters of Americans, including a majority of Republicans, support raising the minimum wage. And here's a really fun fact: had it kept pace with the earnings increases of the one percent in America, the minimum wage would be about $50,000 a year. Instead, it hasn't even kept pace with inflation, and hasn't been enough to escape poverty since 1982 – that's more than 30 years of enforcing slave wages from one of the richest people in human history. More on this phenomenon from Oswald Krell on RI Future.
Dan Schiff, the CEO of the Rhode Island Foodbank, told WPRI Newsmakers this weekend that the $20 million cut to SNAP benefits for Rhode Islanders will not only hurt the poor, but it will also hurt the grocers, super markets and other small businesses where poor people spend their food stamps. One in five Rhode Islanders use food stamps, and he dispelled the conservative dog whistle that waste and fraud is an issue.
Tom Sgouros has a great post on the accounting scare tactics that come in to play when the media calculates future government expenses. In this case, Tom's talking about the next evil Republicans and conservative Dems will be railing against: other post employment benefit costs, known Draconianly as OPEBs.
Rhode Island's most famous – and, in my opinion, most beautiful -winter residents are back. Snowy white owls have been seen at Sachuest Point in Newport, Beavertail in Jamestown and a young one was found with a broken wing at Quonset Airport here in North Kingstown yesterday. You can see pictures of the injured owl on the Wildlife Rehabilitators of Rhode Island Facebook page.
Today is Day 2 of Karen Ziner's amazing series in the Providence Journal about transgender teenager Andy Noel. It's a story about bravery and individualism … and it's a sign of the times, that the paper of record would dedicate so much ink to this topic, but also that it had to shut off the online comments on account of how outrageous they became … we still have a ways to go, but people like Andy Noel are helping us get there.
Now back to my favorite news story so far of the Christmas season: is the Pope a progressive? Justin Katz and I debated the issue on NBC 10 Wingmen last week and he follows that up with an explanation of how he and the head of his church can be at such economic odds, writing, "A progressive Franciscan isn't exactly a contradiction in terms."
Not at all. In fact, we have tons in common. Read Steve Ahlquist's post about what it means to be a progressive that he published just days before the Pope wrote about what it means to be a Catholic and you will see how similar these two groups tend to think. Conversely, I'd argue that the Chicago School is sinful. Katz writes that he can't make a coherent rebuttal to the Pope's game-changer. That's because there isn't one.