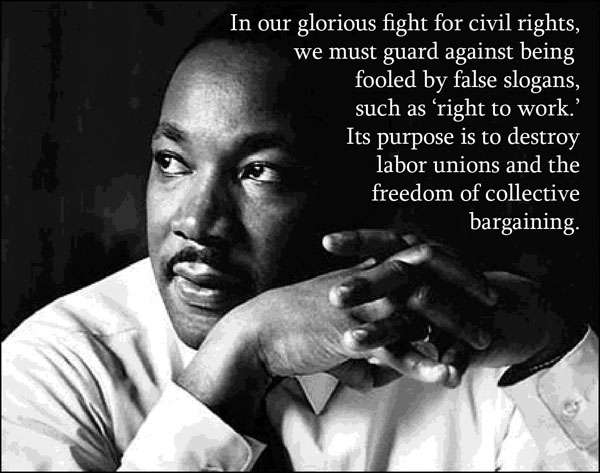 Waging war on public sector unionized employees last year, with Governors Walker, Kasich and LePage leading the charge, lawmakers are now gearing up to take on private sector employees in this year's sessions in legislatures in states across this country. Indiana is in the forefront of the war against workers' rights with its governor, Daniels, set to introduce legislation into a Republican-led legislature that will make Indiana a "right to work" state. Right to work states have enacted laws that do not require union membership of employees working in union shops, therefore allowing free-riders to enjoy all the benefits of being a member without having to pay dues.
However, with this year's Super Bowl being played in Indianapolis, a high-profile union in the form of the NFL Players' Association has issued a statement weighing in on subject.
"Right-to-work is a political ploy designed to destroy basic workers' rights. It's not about jobs or rights, and it's the wrong priority for Indiana."
The statement also notes that as union members, players aren't alone; they are joined by employees working the concession stands and everyone else that brings the games to their fans. Making note of teamwork, how right to work laws will decrease the average income of working families in Indiana by approximately $1,500 and urging Indiana legislators to reject the  measure.
Right to work states were predominantly in the South and West but as Republicans have gained control of legislatures and governors' mansions in traditional "Rust Belt" states, there has been a steady eastward and northward drive to circumvent what was once protected under the National Labor Relations Act. The Wagner Act, as it was first known when passed in 1935, ensured protections for union organizing with union security being one of its main tenets once employees had chosen to organize.
In 1947, the Taft-Hartley Act was passed by Congress, over the veto of President Harry Truman with the president calling it a "slave labor" act. A year later, Truman campaigned against a "do nothing congress" and won re-election in a landslide. However, the act gave states the right to impose a right to work status on workers and many did just that.
Just this week, the Republican-controlled house in Indiana passed a work to right to work bill through its Employment, Labor and Pensions Committee by a vote of 8-5 in what was called a "charade" vote by state Rep. David Bartlett after a five minute hearing where no amendments were allowed and no discussion heard. Fellow Democratic state Rep. Clyde Kersey stated, "I think the light of democracy just went out in the Indiana House," after the vote was taken. A vote to pass the measure in full can be taken as quickly as later this week.
A few things known about right to work states is that on average, workers make $5,333 less a year than in non-right to work states. Workers are still protected from paying union dues if they conflict with their beliefs and workers are better protected in states where there are protections in place for workers. The only ones benefitting from a right to work statute are employers, not workers. Employers will save money from this law, not the other way around. In states where a right to work law was enacted, such as Oklahoma, where job creation was touted, no such job creation took place and manufacturing jobs have actually been lost.
This cynical and broad-based attack on workers' rights from Republicans and chambers' of commerce benefits no one and in the long run will hurt the economy of Indiana as workers have less and less to spend with lower wages. Now is not the time to be decreasing the earning and spending power of the local workforces.
Right to Work (for Less)

,