This is to call attention to some troubling RIPTA statistics.
FISCAL YEAR     # of FIXED ROUTE RIDERS  (from 2016 Audit)
2008                   21.1 million  (peak year in last 10)
2014                   19.8 million
2015                   18.1 million
2016                   17.8 million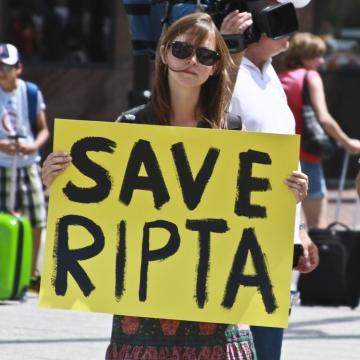 So far, thru December 2016 (before the 50 cent low income fare fare took effect!) ridership is down about another 815,000 so we are heading for only around 17 million in FY 2017. And this decline comes despite a Comprehensive Operations Analysis project to improve routes, the expensive Kennedy Plaza redesign, the rapid "R-line," and all the efforts of advocates to improve things.
So RIPTA is far, far, from living up to its potential to help restore our core cities, keep our energy dollars within the state, and improve our environment and economy, as transit is helping do in other locations.
Looking ahead, there may soon be a 50 cent increase in the basic fare, Citizens Bank is moving much of its workforce from the metro area to the Johnston woods, the Trump administration is likely to reduce Federal support, and the state may end the car tax costing about $215 million in state revenue at the expense of everything else.
I think ridership is declining for several inter-related reason: cheap gas, businesses moving out of city centers, investment in lots of expensive "free" parking, real and perceived problems in Kennedy Plaza, and the widespread view that the buses are just for the poor, the latter reinforced by the campaign to keep all the "free" riding.
What to do?  I see 3 possible strategies:
Give up on a first class transit system, let RIPTA wither and accept it will become a limited system mainly for the poor, elderly and some students;
Try to keep it going more or less as is, though that will take more subsidies, and asking for more money from the legislature with less and less riders doesn't seem promising;
Try to build a first class transit system as Grow-Smart RI and allies are still trying to do as evidenced by their recent conference where a transit expert was brought in from Portland OR to make suggestions.
Though attendees are well meaning, the only way I see possible for real progress is if the Governor's Office took leadership and convened a broad group of stakeholders (RIPTA and RIDOT staff, the MBTA, Statewide Planning, legislative and municipal leaders, the RI Foundation, the business community, labor, Grow-Smart, the RIPTA Riders Allaince, and other advocates/non-profits, and charged them with turning things around.  I think this will take additional funding, employer and union cooperation, parking reform, and some visionary thinking.
Indeed there are opportunities with the coming Providence train station bus hub and downtown enhanced transit corridor, our Boston-NY Northeast Corridor location, a 14 point list of incremental improvements already issued by the RIPTA Riders Alliance,  plenty of good people in all the groups listed above, and the nature of Rhode Islanders that generally care about enhancing our state, protecting the most vulnerable, and combating climate change.
RIPTA has ridership and funding issues, what can we do?

,