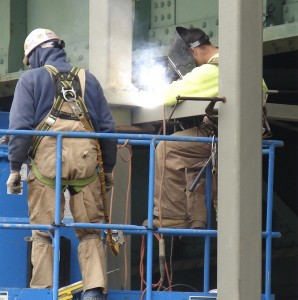 Recently on Twitter, Editor in Chief Bob Plain welcomed mayoral candidate Brett Smiley to the RI Future family, touting Brett's inaugural post on gun issues. But old Righty had to chime in to say, through a series of logical connections, that the real solution to gun violence is lowering business taxes and eliminating business regulations. Because of our "poor business climate", Righty argues, nobody will move a business to Rhode Island and create the desperately needed jobs.
In this essay, I'll go step-by-step through Righty's thinking, point out where I think he goes astray and wrap up with some good, old-fashioned, Frymaster-style socialism. This essay will not delve into the particulars of gun control, but will focus instead on the causes of poverty and possible solutions.
Long story short: Righty's solution is, in fact, the problem.
Guns, Gangs and Jobs
Righty's first logical arguments seem pretty solid. It's not the guns so much as the criminal gangs. This may or may not be fully accurate. Gun crimes require both a gun and criminal intent, so the absence of either would reduce the problem.
Next, Righty says that gangs and criminal activity result from poverty. I'm no crime wonk, but I think there's fairly good evidence that violent crime, among many things, correlates with poverty.
Poverty, Righty contends, results from the lack of jobs, and the lack of jobs results from the poor business climate as measured by business taxes and the degree of business regulations. While not explicitly stated, Righty seems to indicate that changing these aspects of the RI economic structure would entice businesses to relocate here, creating jobs.
Of this last set of connections, only the first has any merit whatsoever. And with each successive step beyond what reality can support, Righty demonstrates how this kind of tired, 20th century thinking has created the problems with which RI struggles.
A Lack of Jobs? Not Really.
It is truly misleading to say that Rhode Island has a lack of jobs. Your Frymaster finds himself, um…, between engagements at the moment, and I can personally testify to the fact that there are many, many jobs in this area for people like me. If you have a college degree and European heritage, it's not a question of finding a job but of choosing one.
From 1999 to 2009, RI posted the 18th highest rate of high income job growth in the nation and the highest rate in all of New England, second only to New Jersey in the northeast. (It's a statistical tie at 58.9%.)
There's just no truth to the idea that there aren't jobs … for people like me. But it is true that there are no jobs for the kinds of youth that end up in gangs committing gun crimes. In all fairness to Righty, his basic point is well taken. If people in marginalized communities had greater access to decent employment, they'd be less likely to become involved with criminal gangs.
But this is the last piece of solid logic we'll get from old Righty. From here on out, it's typical conservative mumbo-jumbo that defines the problem, not the solution.
Capitalist Myths
The greatest and most dangerous myth at work here is the idea that the solution to our supposed lack of jobs is to lure companies from other areas to Rhode Island. These are usually short-distance moves that don't actually change the regional economic situation. Nor do they address any of the cluster of factors that make blue collar jobs harder to find than white collar jobs.
As a positive example, UNFI came from nearby eastern Connecticut. While these workers now pay RI income taxes and some may have moved in-state, nothing about this move changes the underlying economic conditions. The multiplier effect is essentially nil.
38 Studios moved from nearby Massachusetts. Had it all gone to plan and the Baltimore group moved up after the launch of the MMORPG, this would have had some benefit to the regional situation. But, of course, it didn't go to plan in any way. The enormous debt RI now faces is the disastrous downside of "buffalo hunting" as this practice is known in economic development circles.
Another debilitating myth that Righty suffers under is that taxes, unions and regulations are what killed the manufacturing sector in RI, the northeast and the US in general. Capitalism and no other force is what killed manufacturing. One of the great underlying tenets of capitalism is that continuous growth ensures ever expanding opportunity for workers. But this only applies until labor becomes scarce and wages start to rise.
Instead of mitigating growth and reverting toward the kind of stable-state, mom-and-pop business approach that once made the USA the envy of the world, capitalism insisted on ever growing profits. To that end, capitalists moved factories to wherever they could find cheap labor, leaving economic ruin behind. The great irony is that today, with a large and growing under-class of potential low-wage workers in cities across the US, other factors now present a cost-barrier to these kinds of ventures.
In particular, energy and transportation cost have exploded over the past decade. Thanks to the Reagan administration and the onset of radical capitalism in the 1980s, the US is woefully behind the curve when it comes to dealing with changes in the energy landscape. We've compounded this for ourselves by simultaneously pretending that global warming does not exist, so we didn't need to plan for the extreme weather events that climate science predicted long ago. We now find ourselves continuously rebuilding one place or another that has been ravaged by a global warming-related event. Growth in healthcare costs that the private markets was supposed to limit or even reverse back in the 1990s have instead accelerated to take an ever-larger chunk of available income.
In the face of these brutal economic realities, it's tragically laughable to assert that tax rates and regulations of the sort that prevent factories from poisoning their workers and host communities are somehow the problem. The truth is that we live in a very expensive place that cannot support the manufacture of cheap goods.
Poverty in RI
Righty would likely suggest at this point that there must be something about Rhode Island's approach to business that accounts for the large disparity between our unemployment statistics and those of Massachusetts. Of course there must be, but the reasons are not what Righty thinks they are.
The difference, in a word, is education. Massachusetts has historically excelled in public and private education to the point that this is their defining characteristic; education is the Massachusetts brand. MA has higher educational attainment at all levels compared to Rhode Island, so their economy requires fewer low wage, low education jobs to achieve full employment. Nearly 16% of RI's population did not attain a high school diploma, compared with 11% in MA. Thus we need roughly 50% more blue-collar jobs in our mix than MA does.
Jobs that most consider classically blue collar, like the welders in the image above, have become far more technical than they were. In fact, RI imports welders on a daily basis, likely because the state has few training programs. Training in the technical trades in general grew unpopular over the past few decades, and the result is that a state with one of the highest unemployment rates in the nation imports blue collar workers from neighboring states.
As a result of the low levels of educational attainment and lack of appropriate jobs, RI also suffers from the cluster of self-reinforcing impacts that result from poverty. It is difficult for people who have never lived or worked in the poorest communities to understand that poverty is a trap that is exceedingly difficult to escape from.
At the most basic, physical levels, poor communities are usually the most toxic and have the least green space. This creates higher levels of health problems, like asthma and lead poisoning. Many poor communities are food deserts and lack easy access to other key commodities. In a bizarre expression of supply and demand, some communities rely on the ubiquitous liquor store as the local, one-stop shop.
But above all else, poverty creates a stress that those who have never experienced it cannot imagine. Unlike Righty's cartoonish view of the poor laying about watching soap operas, being poor requires constant action simply to feed oneself. Poor families move from one place to another far more frequently than those better off, creating significant problems for children in school. And these children constantly receive implicit and even explicit messages from their schools that they will not be able to achieve success.
Thus it is the mental health impacts of this level of insecurity are the biggest problems in escaping poverty. Poverty begets poverty because it is almost impossible to break out of the cycle. For all the talk about opportunity – from both the left and the right – there really is very little for the poorest communities. In the US in general and in RI in particular, this is our enduring shame.
Prosperity, not Wealth
Most economic development groups strive to "create wealth" in the ways that Righty seems to want to do. By convincing a capitalist that your community is the one in which he can generate the most wealth in the shortest time, you also create some number of jobs that may or may not pay enough to support the workers and their families.
This is the problem, not the solution. Unsurprisingly, people who's primary motivation is to enrich themselves are not the most trustworthy. These deals are always "pay me now, get jobs later." If you want to see your buffalo hunt go badly, just try inserting a clawback provision in which the job creators has to repay subsidies if they can't produce the jobs. These are people who are always willing to turn on you should someone make them a better offer.
And yet Rhode Island remains mired in this kind of thinking to the point that Righty feels fully confident in spouting this lame, discredited malarky.
To the degree he has been able, Governor Chafee has focused economic development on the real drivers of prosperity: education, health and infrastructure. But what little he has been able to accomplish is far short of the interventions we need to heal the fractured economy.
If Rhode Island did just one thing to improve its economy, it should be to adopt the mission of Burlington, VT's CEDO – the Community Economic Development Office. This mission essentially forbids buffalo hunting, instead requiring the organization to target resources on existing businesses and new enterprises started by local residents. It also seeks to create as many impacts as possible, meaning that any given allocation of resources will be small. The idea is not to create wealth for the few but to create prosperity for the many.
The results speak for themselves. Burlington is perennially awash in cash, running an annual surplus. They boast among the lowest unemployment rates in the country in the same range as the remote, resource-extraction driven economies like North Dakota. But Burlington is not focused on resource extraction. Instead, they enjoy a mix of large and small businesses in sectors like tourism, biotech and fulfillment.
And, as a final nail in the coffin of Righty's take on economic development, buffalos come to Burlington, no begging, no tax breaks. Burlington is a thriving city that can afford excellent schools and excellent infrastructure. If you can take the harsh Vermont winters, Burlington offers a quality of life that few other communities in the northeast can rival.
Heal the Ecology, Heal the Economy
To move forward in a meaningful way, Rhode Island needs to get past the false dichotomy that environmental initiatives come at the cost of jobs. In fact, the opposite is true. The most pressing environmental needs all require large, blue-collar workforces. By attacking these problems head-on, we can drive prosperity at all levels of the economy.
At the top of our list must be consistent, sustained action on energy creation and usage. From distributed rooftop solar to utility-scale offshore wind farms, Rhode Island needs to move aggressively to reduce the need for fossil fuel fired electrical plants. Righty, you're dreaming if you think that oil will ever cost less than it does now. Likewise, when the environmental impacts of fracking finally come to light, this cost will also skyrocket. Cheap natural gas is a beautiful illusion.
On the consumption side, the New England housing stock is woefully old and inefficient. The house in which I write has ill-fitting storm windows over old-fashioned, single-pane double hung sashes. We've had cellulose blown in the walls and the attic, but it's far from a tight ship. And in the basement…you guessed it: an oil-burning furnace. There are probably tens of thousands of homes in the region that need a retrofit. It will probably take a decade to complete this work.
Next on the list is land management and use, which means urban trees and urban farms. Surging natural resources into the toxic, food-deprived inner city neighborhoods attacks poverty on a number of fronts. By increasing green space and decreasing pavement, we reduce toxic storm water runoff, improve air quality, decrease radiant heat, increase availability of high-value foods and increase community engagement.
These things are happening in Providence, but they can increase at least double. And they are virtually unheard-of in Pawtucket, Central Falls and Woonsocket, where they are most needed.
I would very much like to hear the Democratic gubernatorial candidates speak strongly to these ideas, but I doubt I will. Ms. Raimondo talks a good game, but she clearly labors under the capitalist myths. I would hope that Mayor Taveras could see the value here, but political reality will demand that he not challenge the voters outside the city limits with ideas that are strange and new. At least to them.
Let me sum up by saying that this: the fact that these proven approaches seem radical in Rhode Island circa 2013 is the single greatest problem we have.
Little Rhody, you are behind the curve and badly so. You need radical ideas and radical interventions. Financial literacy is meaningless to people living hand-to-mouth. Quibbling over a one-cent bridge toll is just silly when we need to radically restructure transportation funding across the board.
Still Righty beefs about taxes and spouts discredited myths. The problem, Rhode Island, is that you listen.
RI's real problem with jobs

,