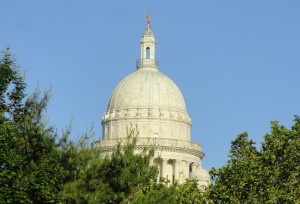 Rhode Island boasts some of the worst roads and bridges and one the highest unfunded pension liabilities in the nation. So of course when it came time to figure out how to make a payment to the pension system, the legislature took the money from a brand new plan to repair roads and bridges. The only other option would have been to tweak the state income tax structure – the most regressive in New England.
All three have obvious effects on the Ocean State's economy. But while income taxes remain sacrosanct, roads and pensions made sacrifices for one another. At least CNBC doesn't factor traffic congestion into its best/worst states for business lists!!
At least a reasonable argument can be made for austerity, though. The most contentious debate of Day 2 of the House of Representatives budget session was whether to include $2.5 million in the $8.2 million budget for 38 Studios bondholders.
Either this was a ridiculous thing to debate at the 11th hour, or it was being used as a political tool against House Speaker Gordon Fox. Perhaps both!
I just can't conceive of a sound argument for not funding something that could damage our ability to borrow money when worst case scenario is it costs every Rhode Island $2.50 (or just the richest among us $250 each!) to effectively buy an insurance policy against a downgrade. If we don't need it, we can always put that money into roads and bridges or the unfunded pension liability. Though some may prefer to just set up a slush fund the 1%…
But the gold star for ineffective government on Smith Hill last night has to go to the Senate Finance Committee. The Providence Journal said it too the committee only 18 minutes to rubber stamp the budget bill the House debated for almost 20 hours.
To which conservative pundit Andrew Morse tweeted: "They should try finding extra funding by zeroing out the Senate budget, and seeing if the Senate actually notices."
Not including it would have meant a potential increase in cost of borrowing money, while in